Thinking about implementing Structured Data? Great idea! Since 2014, Google's documentation recommends you add structured data to increase findability and to stand out in search!
So just how important is structured data? Here are 10 benefits you may not be aware of:
1. Structured Data drives business results
Structured Data is not a one-size-fits-all solution. Every website is unique, and every business has different goals. At Schema App, we focus on customer outcomes and measure what they measure as success. Whether you are in healthcare, finance, tech, or a smaller high-growth company, we have evidence that Structured Data drives results.
See what some of our customers have to say in our case studies.
Sharp HealthCare is San Diego's health care leader with hospitals in San Diego, affiliated medical groups, urgent care centers and a health plan.
Over a 9-month period, Sharp Healthcare saw:    
566% increase in impressions
843% increase in clicks
Increase in average position by 9.1
"Going the extra mile to be solution oriented and always coming up with a solution is so helpful. (You are) always staying ahead and paying attention to the details. I've learned so much. (You're) really being a partner through it all, not just fulfilling a task." – Rachael Jones, SEO Strategist, Sharp Healthcare
SAP SE is a German multinational software corporation based in Walldorf, Baden-Württemberg, that develops enterprise software to manage business operations and customer relations.
400% net growth in rich result organic traffic
SAP's Answer center saw 160% growth in impressions and 150% growth in clicks
Digitalist Mag saw 41% growth in impressions and 28% growth in clicks
"Our work with Schema App has delivered tangible results. In 2019 Schema App optimized more than 4 million pages over 7 websites, resulting in more than 400% net growth in rich results organic traffic.  Schema App makes schema markup easy." – Kathy Visser-May, Vice President, Global Digital Marketing, SAP
Check out the Schema App case studies and Google's case studies for further evidence of why adding Schema Markup to your site may drive improved results.
2. Improve your brand's "findability" in search
You probably don't struggle to understand the message a webpage is trying to convey, but search engines and machines (such as Google, Yahoo, Alexa or Siri) can have difficulty understanding the context of a page. When you add schema markup to the webpage – tags that tell a search engine what your content is about – you can help the search engines (and other applications) better understand your content and display it in a useful, relevant way. Learn more about Schema Markup. 
When a search engine receives an inquiry, they use their knowledge of the web for the piece of content that best matches the user's intent. In an effort to make sense of all of the available content, the major search engines (Google, Bing, Yahoo and Yandex) collaborated to create a comprehensive vocabulary to define "things" on the web. This framework and vocabulary are called Schema.org and the associated code is called Schema Markup aka Structured Data. When you add Schema Markup to your website you help the search engines understand your content. Schema Markup should be part of every SEO strategy, why? Because understanding = findability and findability drives results in search!
3. Control how your brand appears in search results
Your opportunity to make a great first impression with a potential customer starts in the SERPs (Search Engine Results Page). Wouldn't it be great to own that customer experience right from the beginning?  Structured data gives you more control over the way your brand is represented. Being in control means you can define exactly how you want your brand content understood, easily test different strategies, and control where and how the structured data is distributed to your websites.
A standard search delivers three pieces of information: a title, a URL, and a meta description. Rich results are additional information coupled with eye-catching visuals that attract your attention in search.  They bring your content alive plus they take up more real estate in the search results pages, helping you outshine your competition. 
How do you get these rich results? By adding structured data to your website. Here are some examples of popular rich results. There are 32 rich results to help you to stand out in organic search. Here are some of our favourites.
Frequently Asked Questions
Dedicate a section of your website to answering frequently asked questions from your customers. Then, mark up these questions and answers with structured data. With this extra bit of code, your information will be eligible to show in search as FAQ rich results.
Review Snippets
Showcase your credibility in search results by letting your customers leave reviews, and then mark up these reviews with Review structured data. Review snippets help your brand to take up more real estate on search engine results pages, and can be used by various industries from healthcare to e-commerce to technology to drive more engagement for your brand in search.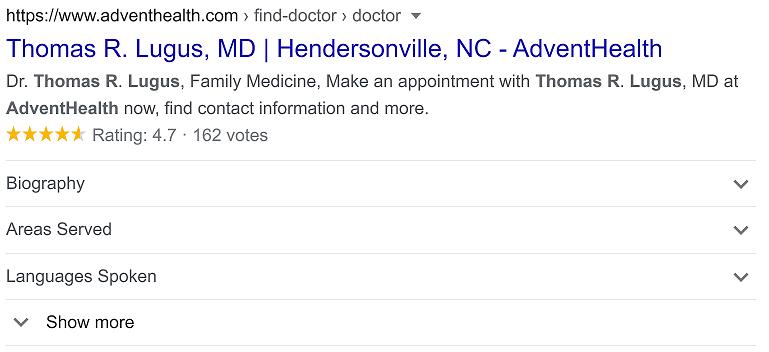 Product
You may already be familiar with Product rich results in search, displaying the product, price, and availability. Beyond the fundamentals, there are other opportunities to expand your Product rich results from ratings, price drop, reviews, shipping details, and more.
HowTo
HowTo content shows prospective buyers how to use the products you sell through step-by-step instructions. It also supports your E-A-T because you're demonstrating to search engines that you are a trusted source of information for specific activities.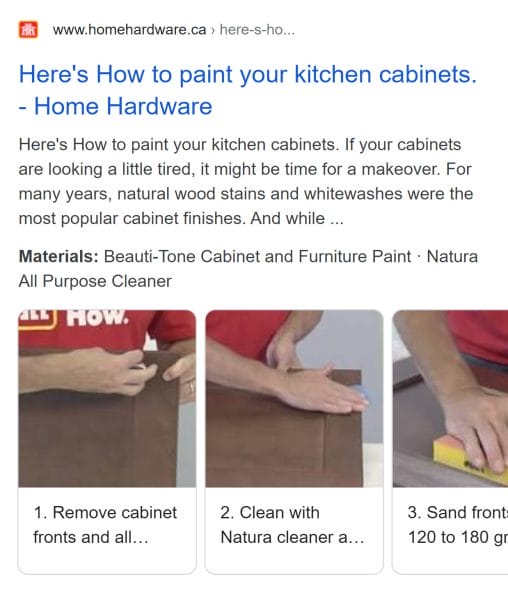 4. Findability on all surfaces – mobile, desktop, voice, and more!
When you optimize your content for organic search using structured data, you've also optimized for voice assistants and Google will take care of speech recognition and NLU (or Natural-language understanding). This was announced at Google IO in 2019. Google stated that their motivation for structured data was so that you could optimize content once and be optimized for voice and search. 
Google Product Manager, Aylin Altiok, is quoted as saying,
"Focus on building great content using an open standard (structured data) and Google will help you reach your users across Search and Assistants without having to build a custom experience."
Watch Google IO 2019: Enhance Your Search and Assistant Presence with Structured Data
Google recognizes that users are engaging with your content in more moments than before, across different platforms and devices.  Optimize with structured data and Poof! your content is optimized for these other platforms and devices right out of the gate without additional investments and with the best possible time-to-market.  
5. Get the ROI from Events, Courses, Articles, and Videos
If your marketing plan includes events, articles and videos, use structured data to get a higher return on investment.
Structured data helps the search engines understand what your event or course is about and who your target audience is so they can make a match and help your event stand out in search. Structured data makes you eligible to showcase your event with pictures, venue, dates, times, pricing, and availability.
Enhance the visual appearance of your article or blog page and match it to your target audience by adding structured data. What does this mean? For an AMP page, your article could get a spot in the Top stories carousel or have larger-than-thumbnail images. For a non-AMP page, you can increase the likelihood of displaying a rich result. Both of these would entice a user to click through and read your content.
We love this example where we wrote an article about Local Business Structured Data and our result stands out with reviews, we have the featured snippet, and Google and Schema.org are the only results that rank higher!
6. Attract Job Applicants
Trying to find that perfect candidate to fill your job posting? With structured data, your postings are eligible to be displayed in the job search experience on Google (at the top of the page), featuring your logo, reviews, ratings, and job details – which could give you that extra visibility you need to help attract the right candidate.
7. Improve your Content Strategy
Thinking about your content from the perspective of the rich results you want to achieve can help to generate ideas for new content or existing content. At the very least, you may use the Google required and recommended schema.org feedback to augment existing pages or create links to existing content. The schema.org structure could even provide the basis of how you design your website taking into consideration that each webpage should have one primary topic, should maximize the opportunity for rich results and should be laid out in a consistent way, wherever possible, to simplify the adoption of schema markup.
8. Delight and Service your customers with answers in search
The customer experience starts in search. Why not use it as a way to delight them with answers to top questions right from the first search? There are two popular options: frequently asked questions (FAQs) and questions and answers (Q&A).
FAQ Rich Result
Dedicate a page of your site to frequently asked questions (FAQs). Consider some of the common queries your customers have, and then mark up these questions and answers with FAQPage schema. Not only will you have more real estate in search results, but voice assistants will also be able to answer voice queries about your brand using your structured data.
Q&A Rich Result
Question and answer (Q&A) rich results are another engaging search enhancement to help your brand stand out in search. For many organizations, these questions and answers are posted in an open forum, which means that there may be numerous answers for one question. Mark up these questions and answers using QAPage schema to unlock these rich results in search.
9. Future Proof: Build a Knowledge Graph and Re-Use within your Organization
Certain companies (like Schema App) create linked structured data so that search engines and voice understand how your content is connected to your organization and to other things on the web. Connected Schema Markup is the foundation of the semantic web. As a result, your structured data is more than code, it creates a Knowledge Graph.
Define objects in your website content as distinct entities with their own properties and relationships to other entities through structured data like schema markup. Once defined, these entities can be connected to Google's Knowledge Graph. Your structured data markup can even enhance your Google Knowledge Panels in search!
A Knowledge Graph can enhance search engine results with information gathered from a variety of sources. It allows users to understand facts about people, places and things and how these entities are all connected. 
Chatbots are essentially just another search engine. They can make inferences based on the data they have access to. Companies are starting to leverage chatbots for marketing activities such as lead generation and to entertain their target audience but also for customer service.  In conversations we have had with AI Chatbot companies, knowledge graphs, also known as Ontologies, are what they are building to be able to provide intelligent answers.  Proper structured data results in knowledge graphs, so one can then infer that well-managed structured data prepares you for AI Chatbots.
10. Derive greater insights from your analytics
Google provides comprehensive tools that can help you measure the impact of your structured data. Here are our favorites:
Google Search Console
Google Search Console breaks down the performance of different search enhancement features and rich results like FAQs and Product markup.
Rich Results Test
Google's Rich Results Test shows your content's eligibility for rich results, helping you to validate your structured data markup.
Schema Markup Validator (SMV)
The Schema Markup Validator (SMV) is currently in beta and is the official replacement for Google's Structured Data Testing Tool (SDTT). The service, provided by Google for the Schema.Org community, can validate schema.org based structured data embedded in web pages, otherwise known as schema markup. The SMV has the ability to extract JSON-LD, RDFa, and Microdata markup, display a summary of the extracted structured data, and identify syntax mistakes in the markup.
At Schema App, creating Structured Data is only the beginning. Once it is on your website, you can pull any of the schema.org properties you've marked up into your analytics platform (like Google analytics) to drive better decisions with the context of the content.  
In this example, Schema App's Enhanced Analytics, added schema.org properties into Google Analytics to show which blog author drives the most page views.
Opportunities Abound
As you can see, there are many different ways your organization can benefit from structured data. Ensuring your structured data is done properly is important. And trust the experts, it can get complicated.  That's where we come in! At Schema App, we love helping businesses get results from structured data.
Frequently Asked Questions
What is structured data?
Structured data is a form of metadata you can add to the backend of your website. The additional information included in your structured data helps search engines to better understand and contextualize your content, leading to more relevant matches with a user's search intent. By following Google's structured data documentation and guidelines, your content will be eligible for enhancement features on Google surfaces, like in search results.
What is schema markup?
Schema markup is a specific structured data vocabulary, and the dictionary is schema.org. Created by Google, Microsoft, Yahoo! and Yandex in 2014, the vocabulary is always being updated and added to, with new opportunities for rich results and search enhancements to stand out from the competition.
What industries benefit the most from structured data markup?
Any industry with an online presence can benefit from structured data. We've worked with industry leaders in healthcare, ecommerce, SaaS technology, and more, delivering results with speed and agility. There are opportunities to stand out from the competition from the beginning to the end of the customer journey, from FAQ, to HowTo, to Videos, and more!
We help you go beyond the fundamentals of search engine optimization, leveraging structured data to showcase your unique value in search. In a rapidly changing SEO environment, we introduce agility to your digital team, saving you time and resources for managing other aspects of your business portfolio. We deliver to your online business goals using our structured data expertise and advanced technology.
Are you ready to start seeing results from structured data?
Martha is the CEO and co-founder of Schema App. Schema App is an end-to-end Schema Markup solution that helps enterprise SEO teams create, deploy and manage Schema Markup to stand out in search. She is an active member of the search engine optimization community, and the work that she does through Schema App is helping brands from all over the world improve their organic search performance.