Thursday, August 24, 2023
12pm – 12:45pm EST
As search engines evolve with artificial intelligence at the forefront, marketers must adapt their content and SEO strategy to stand out in search. Join our upcoming webinar on August 24 at 12pm ET to learn how you can prepare your content for generative AI search.
Thursday, April 13th, 2023
12pm – 12:45pm EST
AI search has been the talk of the town since the release of ChatGPT, and the AI race is on. For AI search to work, it requires high-quality data to provide a basis for the machines to learn about your website. Therefore, the quality of your knowledge graph and Schema Markup contributes to your readiness for AI-search.
Join our upcoming webinar on April 13, 2023, to learn how marketers like yourself can leverage Schema Markup and prepare for AI search.
July 21st, 2022
3pm – 3:30pm EST
Are you looking to drive more clicks and get more appointments to your physician pages? In this webinar, we'll share how to get your physician pages to stand out in search using structured data and rich results. Lauren Anderson, Sr. Digital Content Strategist & Copywriter, will share how Baptist Health optimized their physician pages and the results. Then Schema App's Customer Success Manager, Jarod Colautti, will dig into the details of what content and properties you need to achieve these awesome results.
Our CEO Martha van Berkel and her guest Carolina Anthony, Executive Director of Digital Brands and Content Strategy at AdventHealth, discuss leading in Digital Marketing and how to empower your team to get results.
27th Healthcare Marketing & Physician Strategies Summit
Martha van Berkel joins Chris Boyer from Beth Israel Lahey Health virtually to explain "Why Schema Markup" is a key Technical Element of Content Strategy.
Martha van Berkel joins SEO Video Show host Paul Andre Del Vera to talk about all things Schema Markup, including FAQ insights after Google changes in April.
March 10th, 2022
2 pm EST
Join us as we celebrate structured data trailblazers. In this Schema App webinar, we showcase how our panel of customers overcame relatable structured data challenges.
December 16, 2021
1 pm EST
Lindsay Malzone from Excel Impact joins Schema App's CEO, Martha van Berkel to discuss the challenges she faced in her Schema Markup journey and how Schema App helped resolve them.
November 17, 2021
1 pm EST
In this data-centric Fireside Chat webinar, SAP's Marketing Director, SEO, Jason Lax, joins Schema App's CEO, Martha van Berkel to discuss where he sees the impact and value of structured data.
October 28, 2021
1 pm EST
We're kicking off our Fireside Chats with Simon Yohe from Holiday Inn Club. Join Simon and Schema App CEO Martha van Berkel as they discuss where he sees value in schema markup to drive his online business goals forward.
Looking to optimize your online physician profiles (spoiler alert: you should be!)? In this engaging podcast, Touch Point Media's Chris Boyer is joined by Martha van Berkel and Reed Smith, MBA, as they walk through the various stages of selecting a doctor and how structured data can optimize your physician pages for online searches.
Most people start their health journey in Google Search. So how do you make your content and providers stand out? Join Schema App CEO Martha van Berkel & Julie Goldstein-Dunn, Director of Experience Insights & Analytics at Henry Ford Health System, for this informative SHSMD podcast.
September 1, 2021
Starting at 2 pm EST
Structured Data expert, Martha van Berkel, helps companies understand this complex area of SEO and create strategies on how to leverage it to stand out in search. In this session, Martha will share why structured data should be part of your SEO and content strategy, as well as 3 key principles when getting started.
August 26, 2021
9:30 – 11 am EST
Martha van Berkel of Schema App, Chad Milligan of Frontier Communications, and Therea Kushner of NTT DATA Services — shared how their organizations are currently utilizing data to extract actionable insights tied to consumer behavior.
June 30, 2021
10:30 am EST
Schema markup doesn't stop with implementation. Learn how to make sure your schema markup is working with our exclusive Schema App Live webinar, hosted by Jeff Burns! Bring any and all questions about schema markup for the LIVE Q&A sessions.
June 17, 2021
10:30 am EST
This exclusive webinar will provide you with an opportunity to learn how to create and deploy schema markup on your site from our very own Jeff Burns, followed by a LIVE Q&A session. We hope to see you there!
June 15 – 16, 2021
Starting at 9 am EST
Schema App's Martha van Berkel joins fellow search experts at SMX Advanced 2021. Drive more awareness, traffic, conversions, and profits with sophisticated, brand-safe paid and organic search marketing tactics that give you an edge over the competition and drive real results.
Schema App CEO Martha van Berkel joins Mark Bealin, founder and principal of SearchLab, for episode 70 of his Suds & Search video podcast series. They talk about how Schema can help with every stage of a marketing funnel, about the challenges of creating a tool that can work for schema die hards and neophytes, and for our Local SEOs out there, Local Schema!
June 3, 2021
10:30 am EST
For successful schema markup, start with strategy. Join Schema App's very own Jeff Burns as he demonstrates how to craft the perfect schema strategy to set your online business up for success, followed by a LIVE Q&A session.
In this episode, hosts Chris Boyer and Reed Smith discuss the importance of the three S's of Content Strategy. They outline seven considerations for an SEO optimized content strategy and how structured data plays a role in content design. They are then joined by Martha Van Berkel, of SchemaApp, who shares ways she uses schema to help health systems with rebranding and physician engagement.
In this webinar, Paul Lovell is joined by Jono Alderson of Yoast and Martha van Berkel of Schema App to deep dive into how you can enhance your content with structured data.
The virtual 2021 Content Marketing Conference covers the latest tactics, techniques, and tools for content marketing. Schema App's Martha van Berkel is part of the Content Planning agenda, alongside other content marketing experts, to share her expertise and advice for websites everywhere.
Schema App will be at Communitech's Tech Jam from Home Thursday, April 22nd! We're looking for enthusiastic, goal-driven individuals to join our fast growing team. Currently hiring for a front-end software developer, back-end software developer, and a customer success manager. If you're interested, join us at Tech Jam!
C3 has evolved. Connect with the biggest names and brightest minds in marketing, including Schema App's very own Martha van Berkel, at Conductor's 10th annual SEO + content marketing conference, fully virtual. This year, success means evolving your marketing to meet changing needs. At C3, you'll be part of the search evolution. Join us for this 2-day Organic Marketing event.
Join Martha van Berkel at Digital Marketing World Forum North America East. Martha is part of an agenda that focuses on supporting marketers to tackle the challenges they are facing, to inspire and to share practical advice to help the community to plan, implement and execute new strategies to impact campaigns for the future.
February 23, 2021
11:00 am – 5:30 pm EST
A guided journey that will teach you how to measure search marketing success like a pro. From establishing organizational reporting needs to executing competitive intelligence, you'll walk away with tactics you can implement immediately.
February 11, 2021
11:00 am – 12:00 pm EST
Is your schema markup ready for 2021? Let schema markup experts Martha van Berkel and Jeff Burns show you how to get your schema markup set up and ready to make an impression in search to engage consumers – drive traffic – generate leads.
December 10, 2020
11:00 am – 12:00 pm EST
Test your schema markup knowledge by joining Jeffrey Burns and Martha van Berkel for Schema App Live – PopQuiz Edition! They will be hosting interactive trivia followed by a live Q&A. And yes a prize! One lucky attendee will win a $100 Amazon Gift Card.
Schema markup expert, Martha van Berkel explains how to stand out in search this holiday season. Martha will go beyond the basic product schema markup and show you how to build schema markup and rich results into your content strategy.
December 2, 2020
1:00pm EST
Paul Lovell is joined by Jono Alderson and Martha van Berkel to go over the recent changes in structured data from schema.org currently at version 10.0.
November 12, 2020
12:30 pm – 1:30pm EST
Schema App co-founders, Mark and Martha van Berkel, join Bill Slawski and Terry Van Horne on The Entity Hour to discuss rich snippets and structured data.
Schema markup expert Martha van Berkel shares 10 Things You Don't Know About Schema Markup.
December 8, 2020
3:00 pm – 3:40 pm EST
Check out Martha van Berkel at SMX to learn How To Use Schema Markup To Make An Impression In Search!
November 16, 2020
11:00 am – 12:30 pm EST
Martha van Berkel is joined by two Digital Healthcare Strategists, Brandi West and Rachelle Montano, to highlight the multifaceted benefits of following a taxonomy and schema markup strategy.
November 17, 2020
1:00 pm – 2:00 pm EST
Join SEMRush for a 5-hour live marathon where the brightest pros in the industry will share their expertise with you. Martha van Berkel will be speaking about Schema Markup Explained: 10 Concepts Made Simple & Actionable.
October 26, 2020
3:00 – 3:45 pm EST
Join us October 26-27, 2020 for State of Search, a digital marketing virtual conference like no other. The State of Search offers the best, brightest, and boldest place to learn from a Who's Who in What's What.  Martha van Berkel will present 10 Things You Don't know about Schema Markup.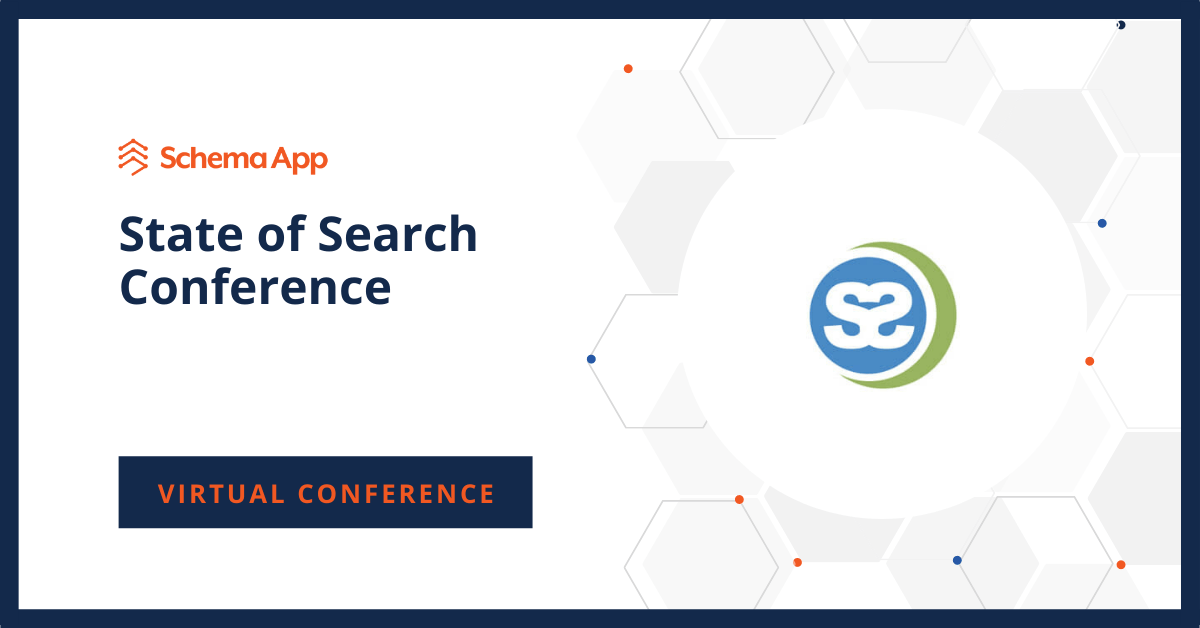 June 16, 2020
Host – Paul Lovell
Guest – Martha van Berkel, Jono Alderson
Paul Lovell is joined by Jono Alderson and Martha van Berkel who engage in a deep-dive conversation about structured data.
18 March, 2020
Host – Barry Schwartz
Guest – Martha van Berkel
Martha speaks with Barry Schwartz about the market readiness for schema markup, BERT, reviews and voice.
20 February, 2020
Host – Andy White
Guest – Martha van Berkel
Martha speaks with Andy about Schema Markup's importance, how it is evolving, how it is used by marketers, knowing what to optimize and the future of Schema Markup.
What is Schema Markup? : A talk with Martha van Berkel
13 February, 2020
Host – Craig Campbell
Guest – Martha van Berkel
Craig is joined by Martha, who gives listeners the ins and outs of Schema Markup. In this podcast, Martha gives a high-level view of what Schema Markup is and how the Schema App tools support users through the entire Schema markup journey from strategy through to implementation, reporting and measurement.
23 January, 2020
Host – Jacob Stoops & Jeff Louella
Guest – Martha van Berkel
Martha shares her background in mathematics and engineering, her time spent at Cisco and the circumstances that led her to venture out on her own to form Schema App with her husband, Mark. Martha also speaks on Google's most recent broad core algorithm updates, how the industry reacts to these updates and some of the challenges SEOs face with schema markup.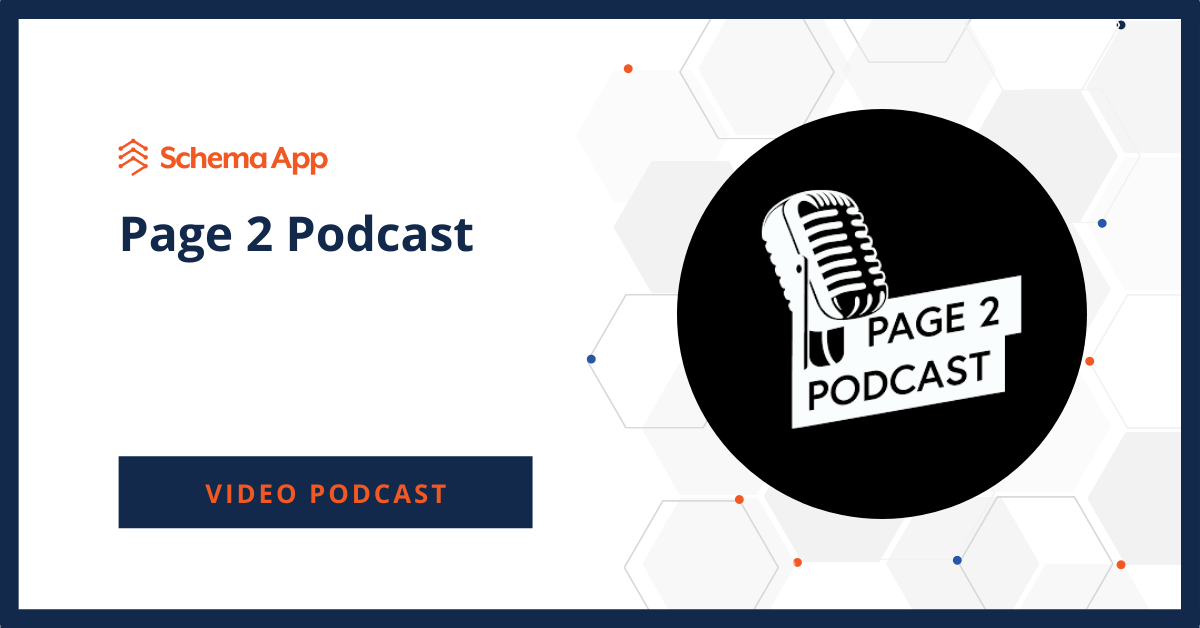 13 September, 2019
Host – Jason Barnard
Guest – Martha Van Berkel, Robin Allenson and Dateme Tubotamuno
Listen to learn all about Knowledge Graphs, ontologies, unstructured and Structured Data and how everything is connected.
26 July, 2019
Host – Martha van Berkel
Guest – Arnout Hellemans
Arnout shares his perspective in starting with an 'outside-in' approach to understand how consumers are searching what you offer. He shares how you can make that information discoverable, indexable and serviceable by search engines with schema markup (aka structured data).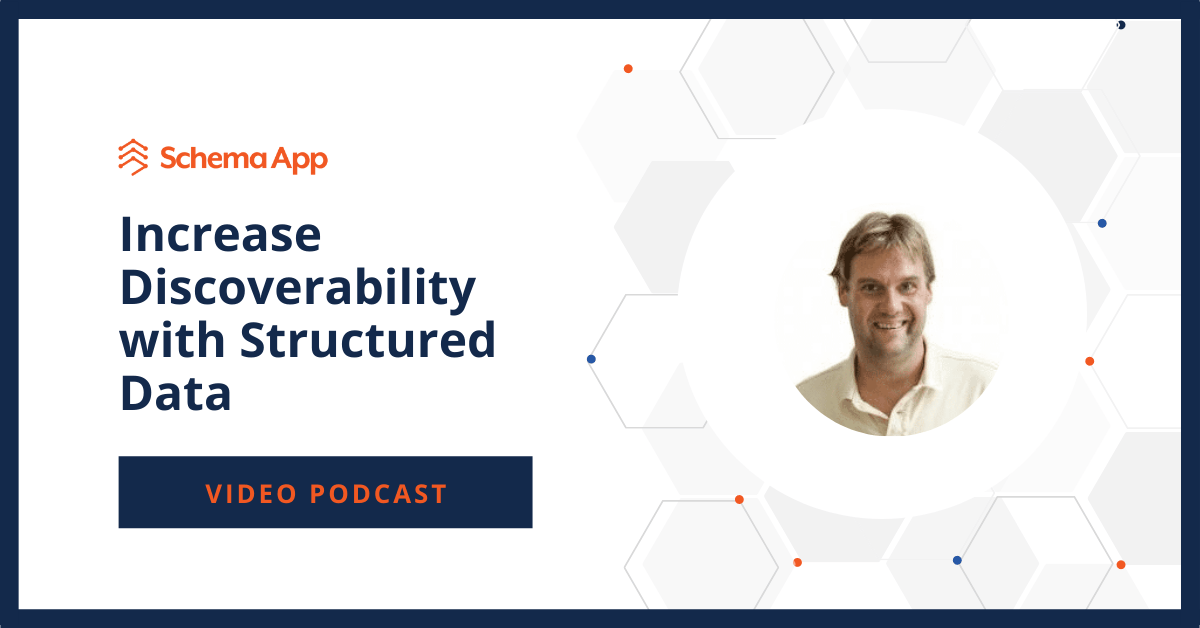 03 July, 2019
Host – Martha van Berkel
Guest – Dawn Anderson
Dawn Anderson is the Managing Director of Bertey, a Digital Agency, Digital Marketing Lecturer at Manchester Metropolitan University talks to Schema App's CEO Martha van Berkel about BERT, NLP, machine learning models and Search. How does a machine understand the difference between bank (where you store money) and bank (on the river)?
April, 2019
Host – Robert O'Haver
Guest – Martha van Berkel
Robert O'Haver asks Martha about the current trends of Schema Markup, how it is evolving and where it could lead in the future.
17 April, 2019
Host – Martha van Berkel
Guest – Ryan Pitcheralle
Ryan shares his observations about how the features and results in search engine result pages have moved from being link-based to being powered by a structured data set. He touches on Discover, re-using structured data in analytics, and specific examples to support these changes. Ryan also shares how the metrics are changing as a result of these new search experiences.
11 March, 2019
Host – Martha van Berkel
Guest – Nick Wilsdon
Martha interviews SEO expert, Nick Wilsdon, Search Product Owner from Vodafone. Nick shares how he is seeing the search landscape change and how data will be the foundation for companies moving forward as the customer experience becomes fractured. Finally, they have a conversation about Amazon and how they are disrupting the ecosystem.
29 November, 2018
Host – Martha van Berkel
Guest – Rob Bucci
Martha and Rob talk about the transition from keyword-based queries to topical based queries. Rob suggests companies come up with creative ways to get in front of 'search' so that users come to them directly instead of searching for answers externally. For developers, he suggests interacting with APIs so they can get comfortable with the idea of working with human language.
30 April, 2018
Host – Martha van Berkel
Guest – Bill Slawski
Bill Slawski shares what insights he has gained reading Google patents and being an advanced SEO practitioner. He talks about how entities have been a common theme in his blog posts resulting from his research on Google patents and how he is seeing the role of entities evolve, as well as the entity IDs.
02 April, 2018
Host – Martha van Berkel
Guest – Steve Macbeth
Steve Macbeth, the executive sponsor from Microsoft (Bing) for schema.org, joins Martha in a conversation about schema.org. Steve shares why he got involved at the start of the semantic web standard, how he sees schema markup playing a role in Virtual Reality and AI, and gives advice on how to make sure that your content is semantically connected.
08 March, 2018
Host – Martha van Berkel
Guest – Aaron Bradley
Martha interviews Aaron Bradley from Electronic Arts on the topic of Schema.org and the Enterprise. Aaron suggests three steps to get started in the Enterprise. If you're a webshop, look at search engine optimization with schema markup, then look at the possibility of bringing that data into your analytics (Semantic Analytics) and connect all of the data points across the enterprise.
21 March, 2017
Host – Martha van Berkel
Guest – Jarno van Driel
Join Martha van Berkel in this engaging 20-minute interview with Schema thought leader, Jarno van Driel. He shares his view on the future applications of Schema Markup and how it can be used to help structure content strategically.  A great listen if you are trying to learn how schema can be strategic to your business today and in the future.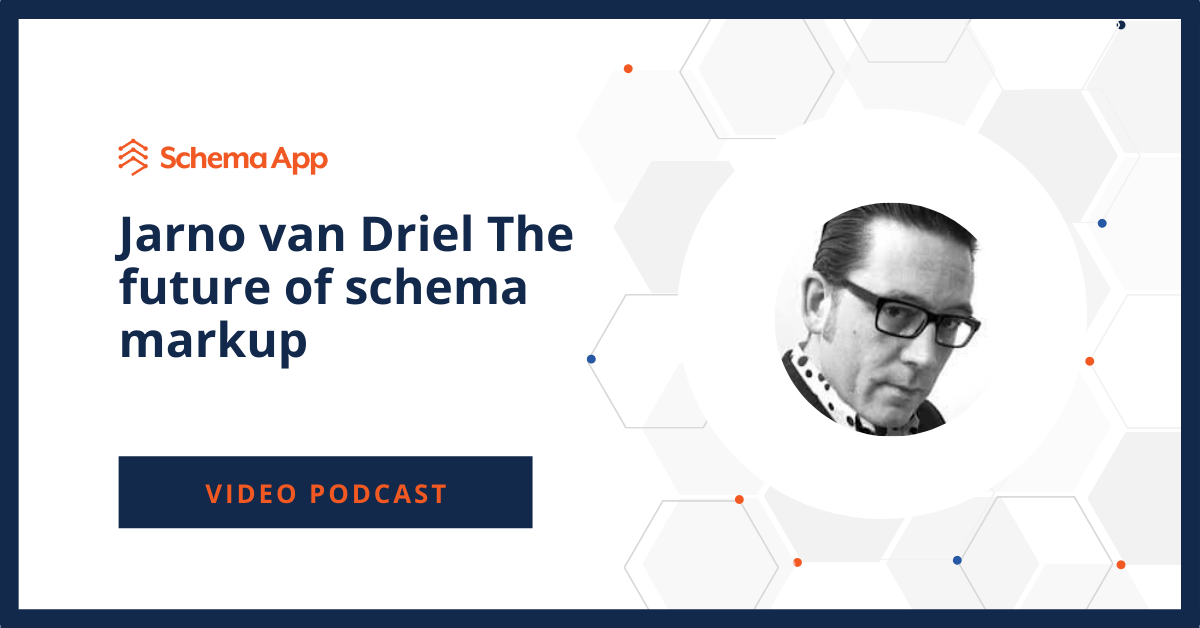 What's stopping you from unleashing the power of structured data?
We're here to help. Talk to an expert today.