Schema App integrates with ALL Web Platforms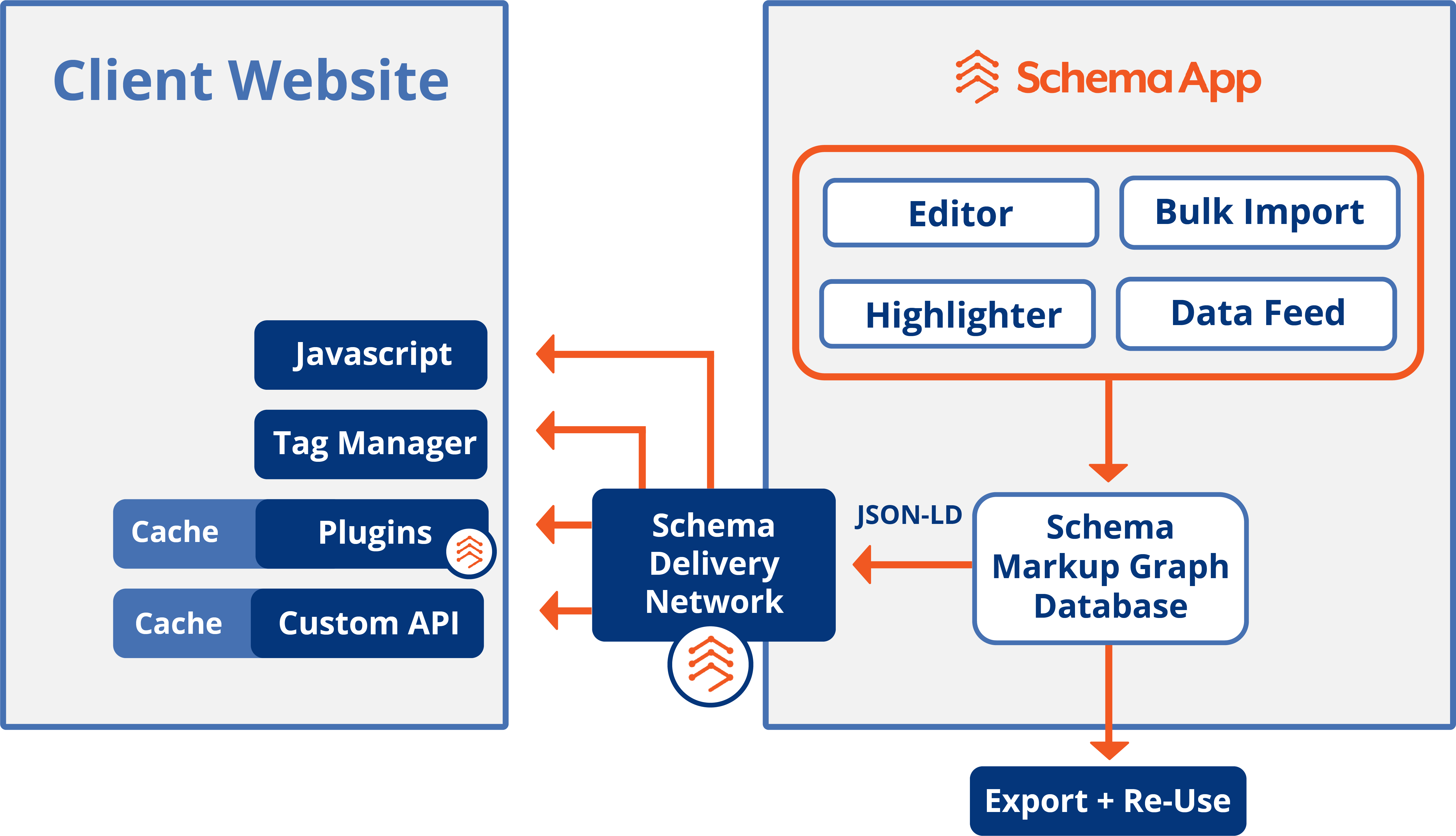 Schema App automatically deploys schema markup to your website, so you can save time, and make updates faster. It works with all website platforms because of our integrations with Tag Manager, with Javascript, or our custom add-ons for WordPress, Shopify, Drupal, etc. We challenge you to find a website we can't work with.
Plugins/Add-ons for these Content Management Solutions
If available, we recommend using plugin/add-ons for deployment. Not only do they allow the Schema markup to reside server side (loads faster) but they can also be read by all search engines.
Another bonus is that some of our Schema App plugins automatically add schema markup code to your website for specific classes and properties. If the plugin doesn't give you access to all of the schema.org classes and properties that you need to create a robust, complete schema markup strategy, pair it up with the Schema App Editor (and Highlighter). NOTE: Some plugins include access to the Schema App Editor.
Quick and Easy! Add the tag once and you're done. Using a tag manager puts the digital marketing team in control of the schema markup deployment and provides them with the ability to do maintenance and updates outside of a development release.
Tag Managers can be used to deploy blocks of JSON-LD or Javascript that generates the schema markup from the page as your content is displayed in the browser. Once a template is created and the tag is setup, schema markup is created instantly. This method adds some overhead to the page.
Options include: Google Tag Manager, Tealium, Ensighten Manage, Adobe DTM, etc.
NOTE: Search engines like Google can process dynamic Javascript (used in Tags) but not all search engines can, although the landscape is always changing.
Using Javascript and our API key, you can integrate any Schema App into any web platform.
Quick and easy APIs for Squarespace and JavaScript.
Some companies prefer to send the code back to their own enterprise content management system in order to serve it up server-side. We can do that too!
We'll take your data, map it into JSON-LD and allow you to deploy it. Because a data feed requires some IT/development involvement, Schema App charges an additional fee for this service.
Plugins Offer Automated Platform Integrations