The primary function of schema markup is to help search engines better understand the content on your website.
Applying schema markup allows you to define entities across your site and link them to other entities across the Web. You're creating data points for search engines, helping Google connect the dots about you, your company, and the people who work there. Well-defined entities can also be included in Google's Knowledge Graph, which is a knowledge base of entities and the relationships between them. 
For medical clinics and health systems, you have the opportunity to create entities for your physicians and connect them to the medical organizations or clinics they work for through schema markup. These connections create context, streamlining Google's ability to match relevant search queries with your services and medical practitioners. Your content can also be eligible for rich results and enhanced search features like star ratings or frequently asked questions.
To be eligible for these rich results, you need to mark up visible content on your web pages and follow Google's structured data guidelines. When you achieve a rich snippet, Google will display additional information from your markup through richer features beneath the standard page title, meta description, and URL. 
What is really exciting are the opportunities for combining multiple rich results into one striking snippet. 
Schema markup takes your content beyond the standard search result, adding enhanced search features to help your brand stand out from the competition. For many customers, their health journey begins in search. The additional information included in your structured data presents customers with the opportunity to learn more about your services directly in search results. According to BrightLocal's 2020 Local Consumer Review Survey, 89% of consumers look at reviews in the healthcare industry, and 87% of consumers believe reviews are important for the industry.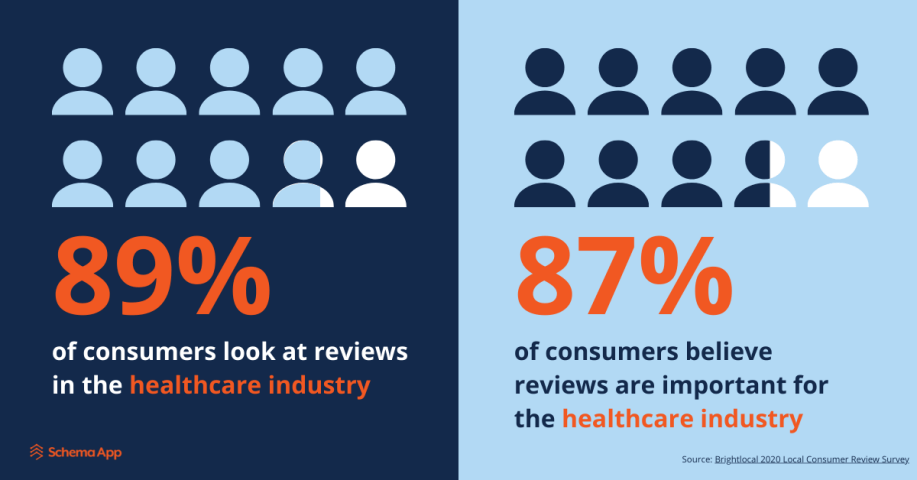 How you can achieve multiple rich results for your physician pages
Let's take a look at how the physician rich result has evolved over time, and how each search enhancement contributes to the power of this striking snippet.
Stage One:

Title Tag, Meta Description, Page URL
Without structured data, your search engine page result will display the page title, the meta description, or other information chosen by Google, and the page URL.

Stage Two:

LocalBusiness (Physician) Schema Markup
When using Google to search for a local business, you may have noticed profiles displaying on the right-hand side, called the right rail, of search engine page results. These are Google Local Knowledge Panels. Local knowledge panels are information boxes that appear when Google interprets a search query to have local intent and recognizes a well-defined entity which is already connected to Google's Knowledge Graph. Google Business Profile is the catalyst for a local knowledge panel to show in search results. 
Structured data is not a direct trigger for Google Knowledge Panels, but it does feed and enhance them. Adding schema markup to your web pages means that your website can be an authoritative source of information for Google's Knowledge Graph, rather than relying on a Wikipedia page (which you don't own) or a LinkedIn or Twitter profile (which you only semi-own). Schema markup gives you more control over how your brand and website appear in search results. 
For any LocalBusiness schema markup, you want to use the most specific schema.org type that you can to explain to Google what your organization is and does. The physician pages on your website should be marked up with the Physician schema.org type, which is a subclass of LocalBusiness and has all the attributes of LocalBusiness schema within it.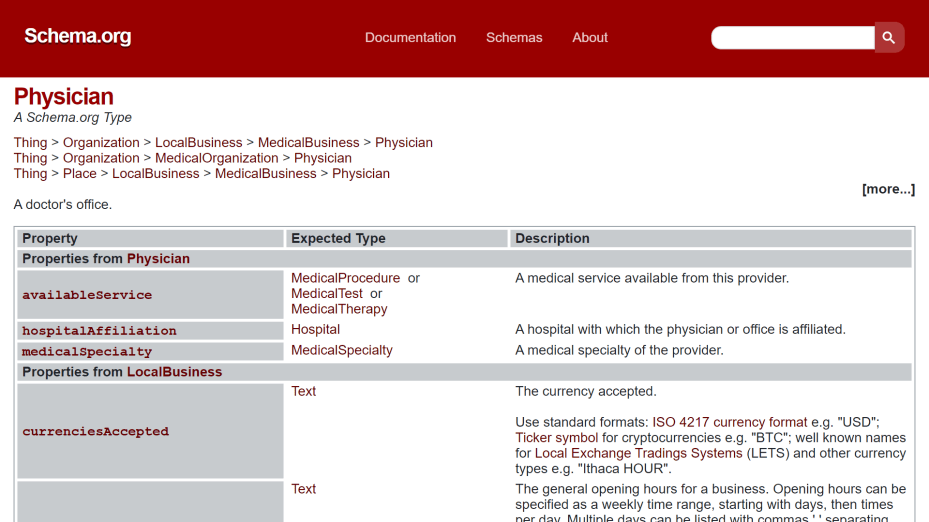 With LocalBusiness schema markup, you want to use the schema.org type that is as specific to your business as possible. Learn more about the benefits of LocalBusiness schema markup in our Ultimate Guide.
Stage Three:

LocalBusiness (Physician) + aggregateRating
You've probably already noticed star ratings showing up for products or local businesses in search results. Those little stars are achieved through aggregateRating schema markup. You can nest aggregate ratings into another schema.org type using the aggregateRating property, such as within an instance of Physician.
Stage Four:

LocalBusiness (Physician) + aggregateRating + FAQ
Star ratings are one of the more eye-catching rich snippets you can achieve through schema markup. To build on your aggregateRating structured data, we recommend next adding FAQPage schema. Frequently asked questions are an effective way for customers to engage with your brand directly in search engine page results. Consider what questions your customers may ask, and dedicate a section for these frequently asked questions and answers on your physician page. Then, mark up these FAQs with FAQPage structured data. For physician pages, this could be their credentials or area served as seen in our example below:
Adding frequently asked questions to your website to unlock FAQ rich results is just one example of how structured data should inform your content strategy.
Physician Rich Result:

What's Next?
As you can see, structured data can be layered and nested to achieve different search appearances for your content. The schema.org vocabulary is evolving, and with Google testing how different rich results behave in search, there are many exciting opportunities ahead for schema markup. For example, during a limited time in early August of 2021, we saw Physician rich results with aggregateRating, FAQ, AND an image of the physician in live search engine page results. 

These tests may be a glimpse into what could soon be coming for certain types of content, and how they're marked up with structured data, in search. If you're interested in learning more about where to start with healthcare structured data, check out our Definitive Guide.
Why structured data for healthcare?
Schema markup explains to search engines how the physician pages on your website relate back to your healthcare organization. These connections create relevance as Google crawls your web pages, which leads to more relevant search queries being matched with services like yours. The benefits of structured data extend beyond achieving multiple rich results in search. Those benefits are visible and effective, as we've demonstrated above. To maximize your search engine optimization performance, it's important to understand how structured data really works. 
You're actually taking control of how the data on your website is defined to show the best information in search results, and not just hoping Google will figure it out on its own. This control helps medical organizations—and their physicians—retain credibility with customers and search engines alike.
Through schema markup, you can also increase your E-E-A-T, establishing your brand as a trustworthy source of information. Schema markup is all about context and relevance, and when done effectively, you can increase both the quantity and quality of leads coming through your website. For healthcare organizations, this means more appointments booked by customers who are well-aligned with the services you offer.
We help you leverage structured data to showcase the unique value of your health system in search. By working cross-functionally with different areas of your organization, we introduce agility to your team in the rapidly changing landscape of search engine optimization. We've worked with some of the top healthcare leaders in the industry, such as Sharp Healthcare, AdventHealth, and Baptist Health—executing business results using our expertise and technology.
Are you ready to unleash the power of structured data?
Martha is the CEO and co-founder of Schema App. Schema App is an end-to-end Schema Markup solution that helps enterprise SEO teams create, deploy and manage Schema Markup to stand out in search. She is an active member of the search engine optimization community, and the work that she does through Schema App is helping brands from all over the world improve their organic search performance.