Healthcare organizations can boost their SEO performance and stand out in search quickly through Schema Markup.
However, creating and implementing a Schema Markup strategy is complex and time-consuming. SEO teams often lack the expertise and the IT resources required to deploy and update Schema Markup at scale across their websites.
Let's take a look at what Schema Markup is and the value it adds to healthcare organizations.
What is Schema Markup?
Schema Markup, also known as structured data, is the niche SEO strategy that enables your pages to stand out in search with rich results. 
What are Rich Results?
They are the search results that appear with additional information such as ratings, price, frequently asked questions, videos, images, physician images, how-to steps and more. 
Google's documentation defines more than 32 rich results you can achieve that help you stand out.
Yes, Google actually tells you to use structured data to help them understand the content and to achieve these results. Here are a few rich results that healthcare organizations can achieve. 
Review Snippet rich result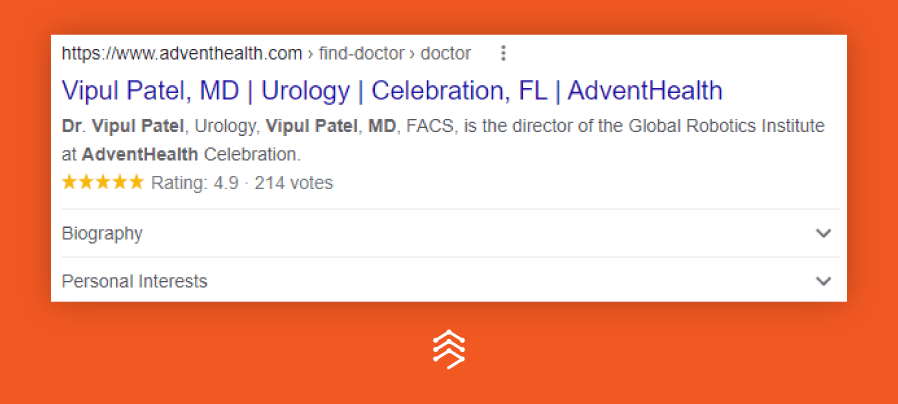 Video rich result
Recipe rich result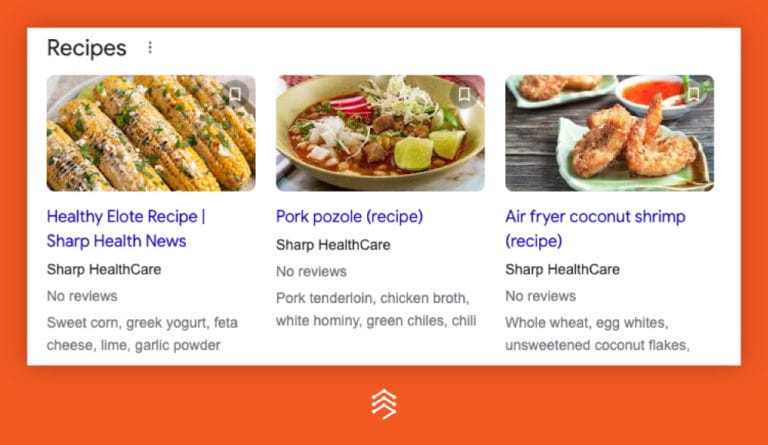 Impact of Schema Markup on Healthcare Organizations
These rich results can help your site stand out and delight your consumers within the search results. The impact of these rich results can be measured through clicks to your website and appointments booked. 
When done well, rich results can bring your brand experience into the search result. To show you how this comes to life in a Healthcare organization, let's look at Sharp Healthcare in San Diego's journey with Schema App.
Sharp Healthcare's Schema Markup Journey with Schema App
Sharp HealthCare's objective was to extend "The Sharp Experience" into search. 
They wanted to make their content easily accessible to potential and current patients in Google Search and position Sharp to answer and provide resources for their healthcare needs. 
Before partnering with Schema App, they had previously tried to do Schema Markup on their own. However, their SEO team found the process to be manual and tedious. Therefore, they chose to partner with Schema App to bring the rich information on their site to life in the search result with Schema Markup. 
What does it look like for their current patients?
With Schema App, Sharp healthcare is now able to answer questions in the search result about how patients can use their 'FollowMyHealth' tool to pay bills, book appointments, or register for an event.
What is the experience for new patients?
Sharp's FAQ rich results made it easy for new patients to:
learn about the Physicians, 

build rapport through a photo of the physician, 

show the physician's ratings to build trust, and 

answer key questions through the frequently asked questions (FAQs) section.
These experiences are enabled through Sharp's use of Schema Markup, and their partnership with Schema App.
Listen to Rachael Jones, SEO Specialist at Sharp Healthcare, share how Structured Data has had an impact on their patients' customer journey.
Benefits of Schema App for Healthcare organizations
1. Measurable Results
One of the best things about Schema Markup is that it is measurable. This makes showing the return on investment from your work with Schema App easy.
When you optimize your web pages with Schema Markup and start achieving rich results, Google Search Console reports on the impressions and clicks you achieve specifically from the URLs that are getting these decorated results. 
When you start working with Schema App, we ask about your organizational goals and what success looks like from your work with us. We ensure that you have tangible results to show how Schema Markup is contributing to your organization's goals. 
The most common measures are Impressions, Clicks and Click Through Rate from rich results achieved on your site. Upon achieving those results, we'll continue to optimize your Schema Markup strategy and ensure your content evolves with the changing SEO world.  
Throughout our engagement with you, our Customer Success team measures how your Schema Markup is contributing to your goals and evolves your Schema Markup strategy to get the desired impact. This keeps us aligned and delivers value quarter over quarter. If your goals change, so do ours. 
This allows marketing teams to easily prove the return on investment on their SEO efforts. Simply implement Schema Markup, and then measure the clicks resulting from rich results in search. 
How do you convert clicks to dollars? 
If you don't have a way to correlate clicks or sessions on your website to appointments booked, you can do a simpler calculation by taking your cost per click and multiplying it by the number of clicks you get from rich results. The result is the number of dollars you saved from paid advertising, through the increase in organic traffic. Our customers often see an ROI greater than 10X. 
# of Clicks from Rich Results X Avg CPC = Value of work done with Schema Markup & Schema App
2. Retaining Talent through Agility
In addition to the measurable ROI from clicks, Schema App also offers healthcare organizations a return on investment through the addition of agility to their teams.
Agility is critical to the success of any business in the 21st century. 
Our CEO and Cofounder, Martha van Berkel, worked at Cisco for 14 years. In the early days, the company was focused on "doing what's best for the customer" while also making the right business decisions. As a result, Martha was able to be agile and take quick actions that delighted her customers. Over time, the company grew too big and lost its agility making it harder to get things done, and resulting in Martha leaving Cisco to start Schema App. 
As a result of this experience at Cisco, we've designed our Schema App solution to add agility to SEO teams. With Schema App, SEO teams no longer need to learn Schema Markup or wait for internal IT teams to update their Schema Markups. 
Our Schema App Highlighter tool allows SEO teams to quickly deploy Schema Markup without having to write a line of code. Combined with our team of expert Customer Success Managers, SEO teams can get access to a Schema Markup expert and make updates to their Schema Markup quickly. 
Our goal is to ensure we deliver our clients quarter-over-quarter results with speed and agility. On top of delivering greater results, staying agile can also help with employee retention. 
When your team sees their Schema Markup strategies come to life in little to no time, they get empowered by the results, which motivates them to keep performing. When teams are held back by operational inefficiencies, it can be demotivating and result in lower employee retention. 
3. Show Value Cross Functionally and to your Physicians
Many of our clients have already tried to do Schema Markup on their own. 
The SEO specialist spends countless hours trying to learn how to write Schema Markup (JSON-LD) page by page, before submitting it to IT to be implemented on the page. With our Schema App Highlighter tool, SEO teams can generate Schema Markup (JSON-LD) dynamically at scale, and deploy them across pages in a few clicks. They can also reduce their dependency on their development team and get the job done quickly. 
Our partnership with Schema App reassures us that this important component of our SEO strategy is being managed. The data we have been able to get out of this is great. Providers love to see how good their marked-up listings look in search results. It's great evidence of the work we do behind the scenes to increase visibility in our market."

– Julie Goldstein-Dunn, Director, Experience Insights & Analytics, Henry Ford Health System
Working with Schema App
At Schema App, we provide an end-to-end Schema Markup solution. We partner with healthcare networks and other organizations to help their content stand out in search, and support their mission to provide an amazing experience to their consumers in their healthcare journey, with ease and scale.
Are you ready to start getting results from Schema Markup?
Martha van Berkel is the co-founder and CEO of Schema App, an end-to-end Schema Markup solution provider based in Guelph, Ontario. She focuses on helping SEO teams globally understand the value of Schema Markup and how they can leverage Schema Markup to boost their SEO strategy and drive results.
Prior to Schema App, Martha was a Senior Manager at Cisco Systems for 14 years responsible for the global online support strategy. She has a degree in Applied Mathematics and Engineering, attended MIT for Innovation and Strategy, is a Mom of two, as well as an avid rower.