The COVID-19 pandemic has been turbulent for different industries. From pandemic burnout, to a reassessment of priorities, to shortages of supplies and workers—many businesses across a wide range of industries have seen employees quit their jobs, move on to new career opportunities, or leave the workforce entirely. Economists are dubbing this The Great Resignation. 
According to Microsoft's Work Trend Index, which surveys over 30,000 people across 31 countries and analyzes activity across Microsoft 365 platforms, over 40% of the global workforce is considering leaving their current employer this year (2021).
The Great Resignation is very real and widespread across many industries, with healthcare and high-tech being some of the hardest hit. From March 2020 to March 2021, high-tech companies saw a 4.5% rise in resignations, and healthcare saw a 3.61% increase in the same time period. Stress, anxiety and burnout were impacting healthcare workers long before the pandemic. The added stresses and challenges of an ongoing global health crisis continue to impact nurses and physicians, with 75 to 80% of physicians in North America experiencing burnout. 
As employees quit their jobs, businesses experience productivity losses. While your team may encounter short term instability during unprecedented times, future-proofing your digital strategy with structured data can reverse some of those negative effects. During a period like The Great Resignation, you have to focus on things you can control and that are measurable, like using structured data to inform your content and SEO strategy. Structured data consistently helps you stand out at the beginning of the customer journey by creating multiple touchpoints in search results through different Google search enhancements.
Managing your digital presence through times of change—whether in user behavior, Google algorithm updates, or as people are leaving their jobs—can be challenging. With structured data, your digital team will be empowered with the control, data, and agility to maximize results from search.
Structured data supports recruiting
If you are looking to fill a position or find new prospects, adding structured data to job postings will improve your chances of finding qualified candidates. JobPosting schema markup will make your job postings eligible for a special user experience in search results. You can also integrate with Google using a third party job site. See the following example for nurses near Buffalo, NY:
Job applicants are able to filter by different criteria, such as location or job title, leading to more engaged and qualified candidates for your posting. This additional job posting avenue increases your chances of finding more applicants, as well as displaying your company logo, ratings, and the job description. Learn more about adding structured data to your job postings here.
Structured data supports changes in User Behaviour
During COVID-19, people have changed their search behaviour. It's no surprise that in 2020, Coronavirus was in 3 of the top 5 Google search queries for the United States. Staying on top of what users are searching for will help you plan and execute on the content your website should provide to your target market.
Remaining on top of new content and ensuring you're including new questions your customers may be searching for will not only drive more traffic to your website, but will support your position as a credible industry leader. Through FAQ structured data, the frequently asked questions and answers for your customers will also be eligible for rich results.
As new content is added to your FAQ pages, tools like the Schema App Highlighter can dynamically deploy schema markup to help inform users in search results without missing a beat.
Structured data keeps you aligned with Google's changes
Paying attention to Google's updates will ensure your website follows SEO best practices. Google made two notable changes during the course of the pandemic: Google's Core Web Vitals update and the addition of SpecialAnnouncement rich results. 
SpecialAnnouncement schema markup empowers locally-based organizations, like medical clinics or schools, to update the public with timely information concerning COVID-19. In the height of vaccinations, this Google search enhancement, and other forms of schema markup, drove higher user engagement for medical websites. For example, AdventHealth saw an 8% increase in clicks during the first 3 months of the pandemic, directly correlating with the addition of COVID-19 structured data to their website.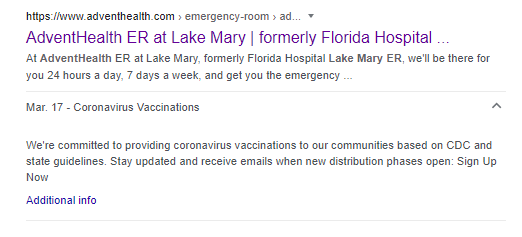 You can take control with structured data
In these turbulent times, you need to maintain your web presence. If you are investing in search engine optimization, following the best practices set out by search engines, such as Google's structured data documentation, will maximize and maintain your SEO results:
Google Search works hard to understand the content of a page. You can help us by providing explicit clues about the meaning of a page to Google by including structured data on the page."
Structured data gives you control over how your brand appears in search
Structured data is a form of metadata that can be added to the backend of your website, giving you more control over what information search engines will display in search results.
For AdventHealth, structured data provided stability during a massive rebrand that would consolidate over 800 websites using approximately 35 different CMS platforms under a single brand and URL. To mitigate the risk of a  drop in organic traffic, AdventHealth decided to use structured data as a key strategy to help manage the transition within Google search, to lead the health industry in rich results, and to stand out as an innovative brand. 
Schema App used schema markup to notify search engines about the rebranding, while also bolstering visibility in search through FAQ markup and physician reviews on their physician pages.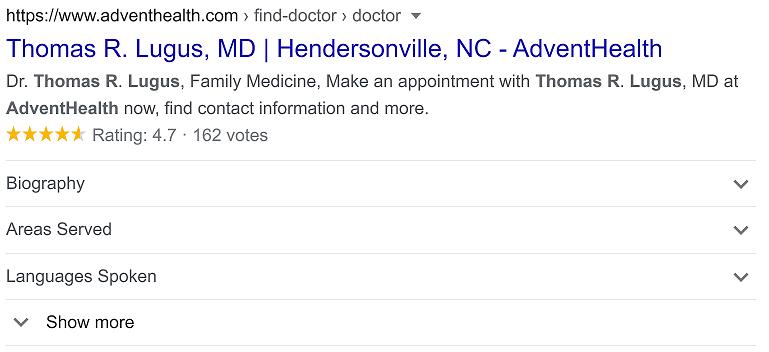 We have seen significant increases in how our physicians are being found. Physician bio clips increased 90% from 150,000 clicks to about 285,000 clicks and we saw a 38% increase in the click-through rate of the search results as well"
 — Brandi West, Executive Director, Digital Brand & Content Strategy I Digital Marketing, AdventHealth
After the rebranding—and thanks to the addition of schema markup—AdventHealth experienced a 90% increase in clicks across all pages, a 40% increase in impressions, a 38% increase in CTR, and top position in the rankings. As a result of structured data deployed for COVID-19 announcements, they experienced an additional 8% increase in clicks. Read about their journey in our case study. 
Structured data delivers results, and at Schema App we customize your schema strategy based on your unique online business goals. 
Structured data delivers results for your digital strategy
The great thing about structured data markup is that the results are measurable and informative. Through enhanced analytics of existing schema markup, we are even able to consider different user trends to drive content decisions for a website. For Henry Ford Health System, this meant identifying groups of pages that had content regarding the same medical specialties and health topics through our enhanced analytics reporting. This resulted in insight into what their patients had been searching for and engaging with informed them of what topics they needed to produce more content for.
As things are changing, you want to focus on what is constant and what you can control. The structured data on your site is entirely in your control, as long as you follow Google's guidelines.
Structured data empowers your digital team with agility
Having a diverse rich result portfolio means that your digital team will have the agility to pivot from one SEO opportunity to the next during times of change. For example, even though the SpecialAnnouncement rich result is driving significant traffic for our healthcare customers, the structured data across their websites was so robust that when it temporarily dropped off on May 20th, 2021, we were already prepared to shift that focus to other types of rich results like FAQs, Review Snippets, and more! 
The challenge with adding manual structured data is that it's time-consuming, complicated, and requires IT support. Schema App is a SaaS technology solution that's paired with flexible, high-touch support to a managed service. You don't have to wait to get started with structured data through these changes—we're here to help you with your unique SEO challenges!
Going the extra mile to be solution oriented and always coming up with a solution is so helpful. (You are) always staying ahead and paying attention to the details. I've learned so much. (You're) really being a partner through it all, not just fulfilling a task."
— Rachael Jones, SEO Strategist, Sharp Healthcare
Get started with structured data for healthcare
If you're experiencing the Great Resignation and/or want to future-proof your digital presence, structured data is an advanced SEO strategy worth investing in.
For healthcare, structured data provides more control over how your organization appears in search results and creates engaging touchpoints in search for existing and new customers to connect with you, leading to more appointments booked. There are rich result opportunities for every industry that has an online presence, with innovative ways to stand out from your competitors.
Ready to get started? Set up a FREE call with one of our technical advisors today to determine the readiness of your website for structured data.
Frequently Asked Questions
What are the best rich results for healthcare organizations?
There are many different rich result opportunities for healthcare organizations! Some of our favourites are frequently asked questions (FAQs), job postings, local business, review snippets (which you can even use for your physician pages), and articles for your expert blog. 
How can you get started with structured data?
To get started with structured data, analyze your overall online business goals and determine what challenges you are looking to solve. Then, explore Google's Search Gallery to see what rich results your existing or future content may be eligible for. For our enterprise clients, a partnership with Schema App means that we will do the structured data markup for you, so your team can focus on strategy and defining your online business goals. We work cross-functionally with your team to ensure that we are an indispensable business partner for your organization, with advanced technology and high-touch support to a managed service. Get started today!
Where can I learn more about customers who've got results from structured data?
Any industry with an online presence can benefit from structured data markup. We've worked with industry leaders in healthcare, ecommerce, real estate, SaaS technology, and more—delivering results customized to each organization's ROI goals. Learn more about our customers' success stories in our case studies. 
We help you leverage structured data to showcase the unique value of your health system in search. By working cross-functionally with different areas of your organization, we introduce agility to your team in the rapidly changing landscape of search engine optimization. We've worked with some of the top healthcare leaders in the industry, such as Sharp Healthcare, AdventHealth, and Baptist Health —executing business results using our expertise and technology. 
Are you ready to unleash the power of structured data?
Martha van Berkel is the co-founder and CEO of Schema App, an end-to-end Schema Markup solution provider based in Guelph, Ontario. She focuses on helping SEO teams globally understand the value of Schema Markup and how they can leverage Schema Markup to boost their SEO strategy and drive results.
Prior to Schema App, Martha was a Senior Manager at Cisco Systems for 14 years responsible for the global online support strategy. She has a degree in Applied Mathematics and Engineering, attended MIT for Innovation and Strategy, is a Mom of two, as well as an avid rower.