If you measure site performance, you already know about Google Search Console and probably use it regularly. When it comes to gauging the validity and performance of structured data on your site, it provides comprehensive, customizable reports that reflect how Google understands (and renders) your markup. 
In this article, we'll take you through:
Measuring the Performance of Your Structured Data

Capture your Starting Point

Interpreting the Data

Monitoring Rich Results with Enhancement Reports

Next Steps

Frequently Asked Questions
Note: If you're looking for a more general introduction to Google Search Console, see Google's documentation on getting started, or check out Hubspot's Ultimate Guide to Google Search Console in 2020.
Measure the Performance of Your Structured Data
When you first log into Search Console, it will open with an Overview page, as shown below.
To dig into the search engine results page (SERP) data, click on "Open Report". You can also access this information by choosing "Search results" from the sidebar on the left.
You will now be presented with the site performance for organic traffic. This includes total clicks, total impressions, average click-through rate, and average position. The default setting will display the last three months' worth of data.
You can click on any of the squares to toggle their metrics on and off in the graph. For a cleaner result, we recommend starting with only "Total clicks" and "Total impressions".
Capture your Starting Point
If you're just starting to implement your structured data, we recommend benchmarking the current site performance trends to date. 
Google Search Console provides a 16-month window of metrics, which means there is always a three-month overlap with the previous year. This data can be used to measure year-over-year progress. You have a window of opportunity to record the data now so that you have a larger frame of reference moving forward.
Below we will outline how to apply filters to capture specific segments of your data.
Interpreting the Data
Google Search Console has several options for displaying data including by specific date range, page set, and search appearance. These parameters can be combined using filters in the "Performance on Search Results" view.
You'll also find Enhancement reports which provide a breakdown of the health of individual rich results and their associated URLs.
Date Range
This filter allows you to segment the time period you want to explore.
By default, GSC presents data for the last 3 months, but this can easily be modified by clicking on the filter. Then, you can select a preset or custom date range.
Setting a date range that includes before and after you implemented structured data can help you measure its impact on performance. 
Time Period Comparison 
Google Search Console provides some predefined comparison periods. These can be found under the "Compare" tab within the Date range selection tool. To capture the largest amount of year over year data, select "Compare last 3 months year over year".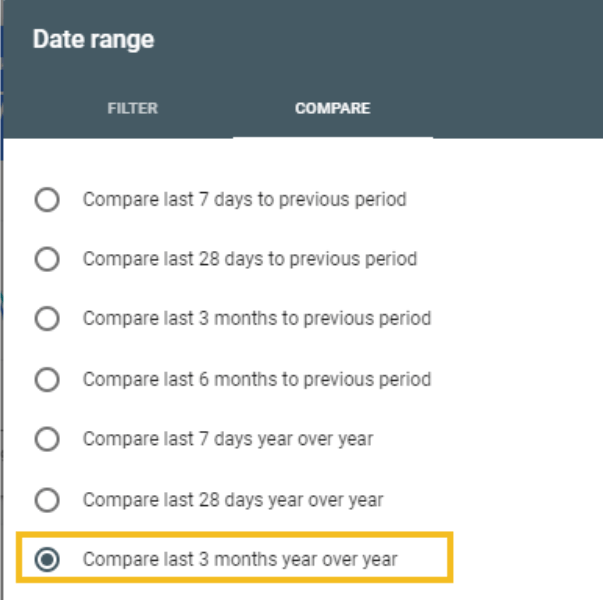 Due to how the years line up, sometimes the graph won't portray the data in an easily accessible view.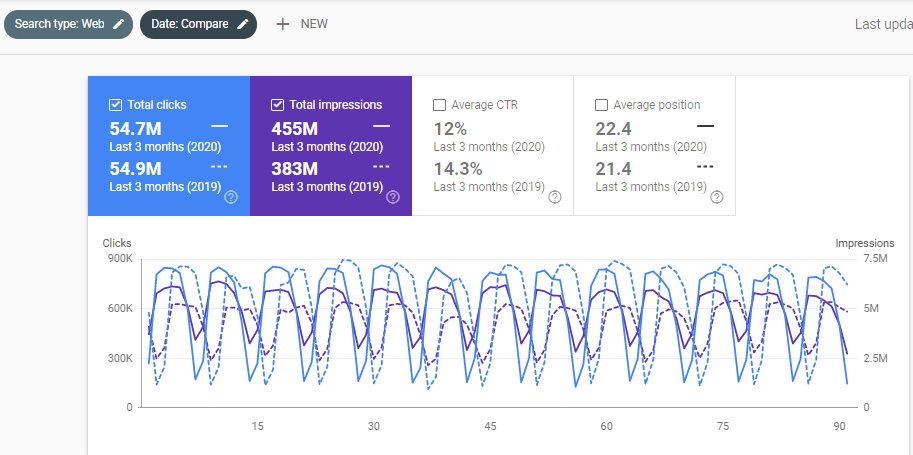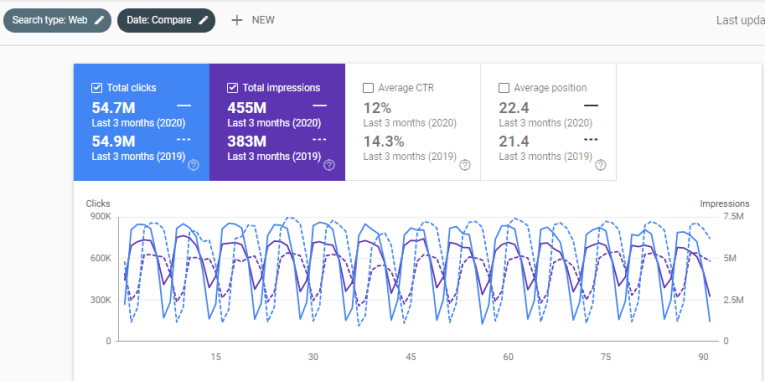 To accommodate for this, you can manually select the comparison period (start and end dates) to align with the same day of the week (e.g. Saturday or Monday). This will provide a better-aligned view when it comes to gauging growth.
Page
The Page filter allows you to look at the performance of an individual URL, or a set of pages that have the same URL pattern. You can implement this filter by clicking the "+ New" button beside the date filter and selecting the "Page…" option.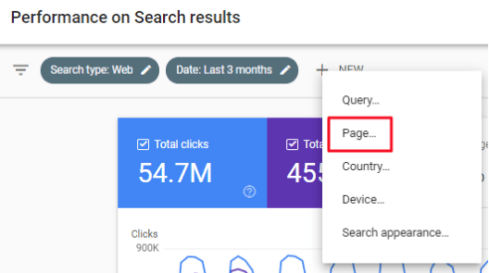 Next, you can either copy and paste the URL of a unique page you'd like to measure, or a URL segment that represents a page set. Maybe you want to gauge the performance of all pages on your site containing /blog/ or /products/.
This is useful for assessing types that aren't eligible for Rich Results or don't have a related Enhancement Report. Have "Service" markup deploying to all pages within the /health subfolder? Just implement that as the Page filter to measure your results. 
Monitoring Rich Result Performance with Search Appearance
If a page is eligible for rich results, use the "Search Appearance" filter to display the performance of specific rich result types. We caution against selecting the "Rich results" filter. While Google's documentation alludes to this category being a superset of all rich results, the numbers are often much lower than for individual rich result types. So, it's best to filter by specific type, like "Videos" or "FAQ rich results", to get a more accurate picture. 
💡 TIP! Select specific rich result types in the Search Appearance filter for more accurate results.
If the pages weren't previously receiving rich results, you'll likely see a steep increase from zero. Comparing the clicks and impressions from these reports to those of the overall "Performance on Search Results" allows you to see what percentage of clicks and impressions can be attributed to rich results.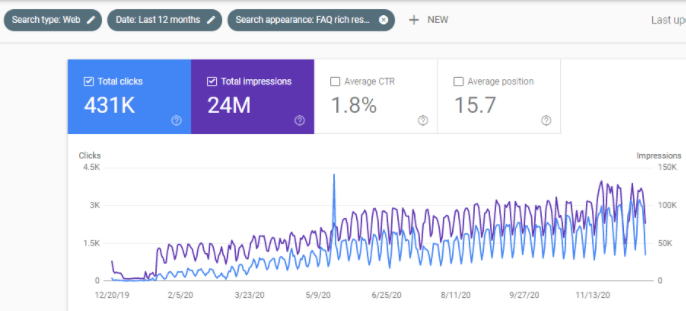 Monitoring Rich Results with Enhancement Reports
Enhancement reports come in handy when you want to assess both the validity and performance of specific rich result types. Currently, Google Search Console provides reports for the following features:
Breadcrumb

Dataset

Event

FAQ

Fact check

Guided recipe

How-to

Image License

Job posting

Logo

Product

Q&A page

Recipe

Review snippet

Sitelinks searchbox

Special Announcement

Video
These Enhancement reports show the number of instances that are valid, instances that contain errors or warnings, and the number of impressions associated with each rich result type. You'll generally see the number of impressions rise with the number of valid instances.
If you're deploying markup to a large number of pages, the error and warning reports give you an overview of the health of your markup. These can either inform you that something in your markup is broken, or that a required piece of information is missing.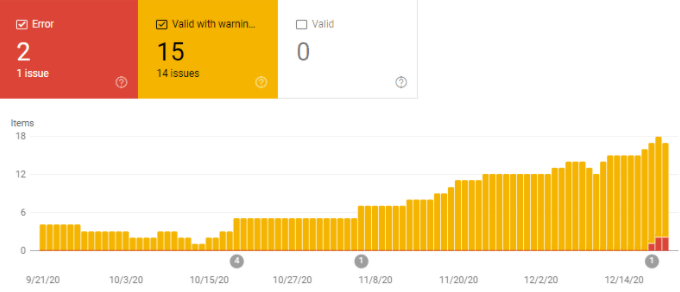 These reports are broken down into types which can, themselves, be clicked on in order to see which URLs are being impacted. Once you've resolved any issues in your markup, you can click "Validate fix" to get Google to recrawl and revalidate.

Always remember, "Error" means you're missing something that's required in order to be eligible for rich results. "Valid with warning" means you're only missing recommended properties. These instances will still be eligible for rich results, they just won't include all the available features.
For more information about troubleshooting and resolving errors, check out Google's documentation on Rich result status reports.
Next Steps
Now that you understand the basics of using Search Console to monitor your structured data, you can create and compare any number of segments to gather interesting data points.
The following list provides some ideas for how you can use filters to gather new metrics: 
Calculate the percentage of impressions or clicks that your rich result segments are achieving compared to the sitewide performance. 
Calculate the change in growth rate by determining the difference between the average month-over-month growth before and after structured data implementation. Optimally, this would use the same number of months before and after for an accurate representation of this change.
Calculate the growth of rich results as a percentage of total growth by determining the difference between two time periods for both rich results and sitewide and then calculating the rich results difference as a percentage of the sitewide difference.
Google Search Console is an excellent tool with a lot of opportunities for customization. That being said, it does have a bit of a learning curve. Having pushed Search Console to its reporting limits ourselves (at least where structured data is concerned), we've been working to develop an automated way to answer the kinds of questions schema users want to know.
If you're less interested in playing with Search Console's filters and want an easier way to access schema-specific reports, contact us and ask about our Schema Performance Analytics.
Frequently Asked Questions
How do I know if my Schema Markup is working?
You can test whether your structured data is valid on individual pages by using the Schema Markup Validator (SMV), which officially replaced Google's Structured Data Testing Tool on August 9th, 2021, and Rich Results testing tool.
For sitewide validation, run your site through the Schema App Analyzer. The number of rich-result-eligible items can also be measured in Google Search Console's Enhancement Reports, though it can take some time for these reports to be populated.
To measure the impact of rich results on site performance, apply "Search appearance" filters to the Google Search Console Search results report. You can also explore our blog post: How Do I Know If My Schema Markup Is Working? How to If you want to go beyond rich results to measure the impact of structured data as a whole, ask us about Schema Performance Analytics. 
What kind of SEO impact should I expect?
Implementing structured data makes your content eligible for rich results, and provides search engines with a deeper understanding of your content. By including it in your SEO strategy, you can expect to see an increase in digital marketing objectives like clicks, impressions, click-through-rate, and conversions.
For more information about the impact our clients have experienced, check out our case studies.
How do I get rich results?

Applying the appropriate structured data to your content can make it eligible for rich results.  Not sure where to start? Check out Google's list of Rich Result Features for the required types and properties, and make sure your markup follows Google's General structured data guidelines.
Still have questions? Contact Schema App to learn about our full-service enterprise solutions.
How do I fix errors in my structured data?
It's very important that you check your schema markup so you can be sure that it is working hard behind the scenes for your website! While you're waiting for the Google Search Console results to appear, there are a variety of tools that allow you to check for any errors or warnings that your markup may be generating.
We recommend the following:
Google's Rich Results Testing Tool (for single-page validation)

The Schema App Analyzer (for site-wide validation)

The Schema Markup Validator (to check for errors in your schema markup syntax)
If you need a hand getting started with your structured data strategy, we've helped customers such as SAP and Keen Footwear drive more quality search traffic to their websites. 
Start reaching your online business goals with structured data.
Martha van Berkel is the co-founder and CEO of Schema App, an end-to-end Schema Markup solution provider based in Guelph, Ontario. She focuses on helping SEO teams globally understand the value of Schema Markup and how they can leverage Schema Markup to boost their SEO strategy and drive results.
Prior to Schema App, Martha was a Senior Manager at Cisco Systems for 14 years responsible for the global online support strategy. She has a degree in Applied Mathematics and Engineering, attended MIT for Innovation and Strategy, is a Mom of two, as well as an avid rower.