Learn how to take your schema markup to the next level and become an SEO trailblazer like Lindsay Malzone from Excel Impact. Not only does she share with you how to get started, but she will also share how to scale your schema markup—all while staying ahead of your competitors by looking beyond industry standards to more advanced structured data strategies.
If you are about to get started, you may be asking,
Where do I start?"
For Excel Impact's Lindsay Malzone, she knew structured data was important because Google thinks it's important:
For Lindsay, the challenge was figuring out how to implement structured data across all web pages of her site while incorporating rich result opportunities into her team's content strategy. Depending on the type of content, different schemas should be used for different enhanced search features called rich results. Now, you may be asking:
What is a rich result?
This is a rich result. The additional information of pricing and availability comes from the structured data added to your website for this content.

You need relevant content marked up with all required and recommended schema.org properties to qualify for rich result eligibility. Through these enhanced search features, you can show more information about the products or services you offer through frequently asked questions (FAQs), how-tos, pricing, reviews and star ratings, and more.
Taking her Schema Markup to the Next Level
We asked Lindsay what took her to the next level of understanding as she journeyed in schema markup, to go beyond just basic markup:
Following the trends and what's going on in the SEO space, as well as our own industry space and tracking the competitors — figuring out what they're doing and seeing if they're ahead of you, or behind you, or if they're catching up to you."
To stay ahead of the competition, you need to keep an eye on what others in the industry are doing to stand out. By going beyond the most commonly used schema to implementing more complex and unique schema markup, you can discover new ways to connect with your customers through engaging content and interactive search features, like this FAQ rich result:
To keep a competitive advantage, Lindsay realized that her team needed to do even more. She wanted to dig into more advanced levels of SEO complexity to beat her competition. After playing with a couple other tools or plug-ins, she found that most weren't up to speed with everything she needed for a more advanced schema markup strategy.
Figuring out how to organize sets of pages, group them together, and distribute different types of schema manually—Lindsay knew that doing this in-house would be a big ask of her SEO and development teams to create JSON-LD (Google's preferred structured data format ) by hand:
I realized that it was going to give me carpal tunnel!"
Whether it's a set of 5 or 500 pages, you need to figure out what types of schema you can implement on them and keep it organized and consistent. That way, you'll be able to scale your structured data through templated pages and dynamic tools like the Schema App Highlighter.
The key to successful structured data is organization. You want to organize different types of content and keep your schema markup consistent. By doing so, when it's time to scale your strategy or when Google introduces updates, you're already prepared to deploy new recommendations to groups of content at scale that are currently on your site.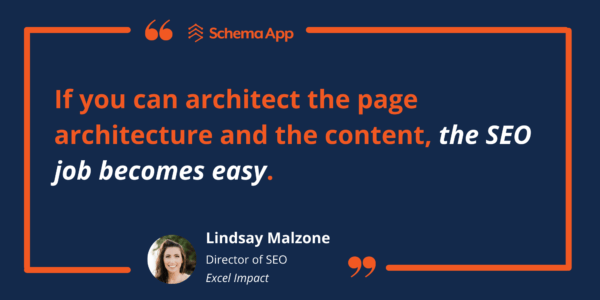 Schema Markup is a Learning Journey
We like to think of schema markup as a journey—from strategy to results.
Start with strategy—what is the unique value proposition you want to communicate to your customers in search? Use these values as well as rich result opportunities to inform your content strategy. By doing so, you can maximize your results from structured data. Schema markup is an iterative process; you are always learning and growing on your schema markup journey.
For Lindsay, working with other SEO experts is where she learns the most. Working with Schema App, she was able to have a dedicated team focused on this advanced area of SEO for her company. Meetings with her Customer Success Manager were an opportunity to share new ideas, discuss updates from Google, and celebrate wins together.
Being able to have an internal, dedicated team to help stay on top of everything and stay informed on what other experts are saying isn't always an option. This is especially true for more agile organizations that may not necessarily have an entire team dedicated to SEO.
That's why Schema App focuses on empowering our customers with scalability and agility through our expert tools and support. We work with you to develop a customized schema markup strategy aligned with your return on investment goals.
Through expert recommendations, we help your SEO team learn how to use structured data opportunities to inform their content strategy in order to maximize results.
In her ten years of doing SEO, significant increases or decreases to website traffic were usually due to algorithm updates. The only other time she's seen that happen is when she launched schema markup on her site. Beyond metrics, the visual change to your content in SERPs is very impactful in demonstrating the value of structured data.

Not only are you standing out from the competition through rich results you've achieved and commanding more virtual real estate on the first page of the SERPs, but you're also presenting new, engaging opportunities for your customers to connect with your brand right in search. Don't wait until it's become the standard for your industry—stand out from the competition by doing it first!
Are you ready to unleash the power of structured data?
Martha van Berkel is the co-founder and CEO of Schema App, an end-to-end Schema Markup solution provider based in Guelph, Ontario. She focuses on helping SEO teams globally understand the value of Schema Markup and how they can leverage Schema Markup to boost their SEO strategy and drive results.
Prior to Schema App, Martha was a Senior Manager at Cisco Systems for 14 years responsible for the global online support strategy. She has a degree in Applied Mathematics and Engineering, attended MIT for Innovation and Strategy, is a Mom of two, as well as an avid rower.