The Definitive Guide To

Healthcare Structured Data
Healthcare organizations can instantly boost their search engine optimization performance through the implementation of structured data. Highlight important information in organic search results for your existing and prospective patients with schema markup, including contact information, specialties, location, business hours, and more.
Structured data translates your content into the language of search engines so Google can better understand your webpages. In this guide, we'll show you 6 specific page types to mark up so that you can start standing out in search and booking more appointments. These types include hospitals, medical clinics, medical conditions, medical procedures, medical therapy, and physicians.
Structured data is basically code written in a specific format so that search engines can understand your website content. When search engines read this code, they can display the information with enhanced results in search called rich results.
Why Structured Data for Healthcare
Structured data is a powerful but underutilized SEO strategy that can help healthcare organizations stand out in search. By adopting this strategy, you can bring important and relevant information to consumers at the start of their health journey online resulting in higher engagement and more appointments booked.
What if all your Doctor's profiles looked like this in search? This is a rich result.
Rich results are powered by structured data.
Are you new to structured data for the healthcare industry? Our guide takes you from strategy to results, with real stories from prominent healthcare organizations. Save a FREE copy to keep for reference.
Schema App is committed to protecting your privacy. By submitting this form you are agreeing to our Privacy Policy, and you are welcome to unsubscribe at any time.
Structured Data Drives Results + ROI
Here are three leading healthcare organizations. Read about their Schema App Experiences driving results from structured data.
9.1
avg. position increase
"Going the extra mile to be solution oriented and always coming up with a solution is so helpful. (You are) always staying ahead and paying attention to the details. I've learned so much. (You're) really being a partner through it all, not just fulfilling a task."

– Rachael Jones, SEO Strategist, Sharp Healthcare
"We have seen significant increases in how our physicians are being found. Physician bio clips increased 90% from 150,000 clicks to about 285,000 clicks and we saw a 38% increase in the click-through rate of the search results as well."

– Brandi West, Vice President, Consumer Innovation, AdventHealth
Learn more about structured data for the healthcare industry
In this episode, hosts Chris Boyer and Reed Smith discuss the importance of the three S's of Content Strategy. They outline seven considerations for an SEO optimized content strategy and how structured data plays a role in content design. They are then joined by Martha Van Berkel, of SchemaApp, who shares ways she uses schema to help health systems with rebranding and physician engagement.
Schema.org contains over 200 types and 160 properties specific to healthcare. The vocabulary is always changing, which is why Schema App's solutions contain the entire schema.org vocabulary and include any updates to core, pending, or extended types and properties. As recently as March 2021, the vocabulary was updated to reflect complex healthcare content.
Here are some examples of types of content that you can explain using the schema.org vocabulary:
Simon Yohe, former Director of Web Marketing Strategy at AdventHealth, highlights how structured data was used to drive results for their business. Full case study.
Healthcare Rich Results Examples
Healthcare organizations may need to publish urgent updates on their websites to keep the public informed during times of change, or even just about a recurring event like the flu shot. Marking up your content with structured data can help to show these updates in search through rich results. Schema App works with enterprise level healthcare organizations like Sharp Healthcare and AdventHealth to create structured data at scale so that the most current information is displayed in search.
SpecialAnnouncement Rich Results
SpecialAnnouncement markup should be added for time-stamped information updates about COVID-19 made by locally-oriented organizations, such as schools, pharmacies, healthcare providers, community groups, police, and local governments. To learn more about how to markup your website with SpecialAnnouncement schema, read our in-depth article here.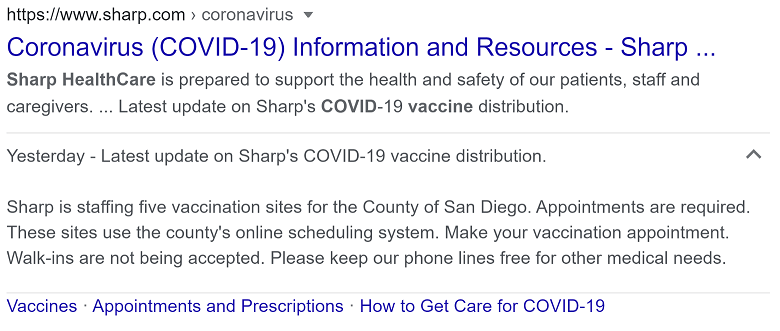 Review Snippets for Healthcare Organizations
Patient engagement is important for any health organization. 94% of healthcare patients leave online reviews about their experiences. From clinics to doctors, reviews can help organizations to stand out in search, to display their credibility, and to engage searchers with interactive rich results. Since sites like healthgrades.com show these reviews, it is a must have. Combine them with FAQ and own even more search real-estate.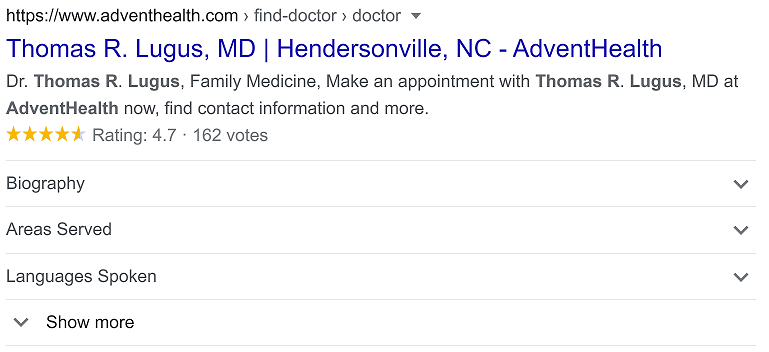 Frequently Asked Questions (FAQs) Rich Results for Healthcare Organizations
Search is a resource for answering questions. Having the answers to questions regarding healthcare and your organization showing as rich results is an effective way to stand out in search. By adding frequently asked questions and answers to your website and marking them up with FAQPage schema, they're eligible to appear in search as interactive rich results. FAQs could answer questions about COVID-19 testing facilities, as the following example displays.
Other opportunities for FAQ rich results include information about booking appointments, or about the healthcare organization itself.
Recipe Rich Results for Healthcare Organizations
An interesting opportunity that we're seeing several of our healthcare clients adopt is Recipe schema markup. If your organization has the capacity to maintain a blog, posting recipes for healthy living and then marking them up with Recipe schema can make that content eligible for rich results in search.
Frequently Asked Questions about Healthcare Structured Data
Schema App is at the forefront of schema markup strategy and implementation, providing enterprise solutions to some of the top clients across the world. To learn more about our structured data solutions and how we can help you reach your online business goals, contact our expert team. We'd love to hear from you and help you get started!