When a user conducts a Google search, they expect to be connected to websites that align with the intent of their inquiry. As such, Google's algorithm examines the Structured Data Markup (also known as Schema Markup) of each domain to provide users with the best possible answers to their queries.
By adding Structured Data to your web pages, search engines can better understand and contextualize the content on your page. This helps them provide more accurate results to a user's query and also display your content as a rich result on the search engine results page (SERP), which can drive greater engagement to your site.
Join us as we examine how you can make your site stand out by simply adding Structured Data to your domains.
What Is a Rich Result?
A rich result (previously known as a rich snippet) is an enhanced search result that appears on the SERP. These enhanced search results have additional interactive or visual features and have been proven to drive and improve user engagement. Google's rich results, in particular, can be displayed as a video, info card, carousel, among many other unique visuals.

You can make your content eligible for a rich result by adding the appropriate Structured Data markup to your page. However, that doesn't guarantee you'll achieve that rich result for every search query. Depending on a user's query, Google might decide that a regular blue link is better suited for the user than a rich result.
Once you've added the appropriate Structured Data to your web page, you can find out if your page is eligible for a rich result using Google's rich results test tool. The tool will identify which rich results types were found on your page, and flag any errors you might have in your Structured Data. Certain types will also let you preview your page as a rich result on the SERP on both mobile and desktop devices.
What Does Your Content Have to Do with Achieving a Rich Result in Google Search?
Before you can take advantage of rich results to drive engagement, you must first build out your content library. The Structured Data associated with a page should describe its content. If your content is of poor quality or doesn't abide by Google's guidelines, resolving these issues should take precedence over Structured Data implementation.
Additionally, Google states that you should only markup content that is actually visible on your site. If your page does not contain the content that you've added to your Schema Markup, Google may not award you a rich result because it could be misleading to users.
For instance, let's say that you add the phrase "cooking time" to the Schema Markup of a food product page but don't actually have any content about cooking times or meal prep on that page. In such a scenario, Google will likely render you ineligible for the Recipe rich result.
Tips to Optimize Your Content for Rich Results on Google
Ensure your content satisfies the required Structured Data properties for your targeted rich results
To become eligible for a rich result, make sure your page has the content necessary to satisfy the required Structured Data properties for the type of rich results you are targeting.
Google has over 32 different types of rich results, each of which can be achieved by adding the right Structured Data properties to your web page and abiding by the content guidelines listed.
Let's say you run a local business and want to achieve a rich result for your product or service.
To achieve a Product rich result, you would markup your product page with the Product Type. Google requires you to include the name property and at least one of the properties – review, offers, or aggregateRating – in your markup to be eligible for the Product rich result. Because you can only mark up the content that is visible on your page, you first need to verify whether you can satisfy the property requirements.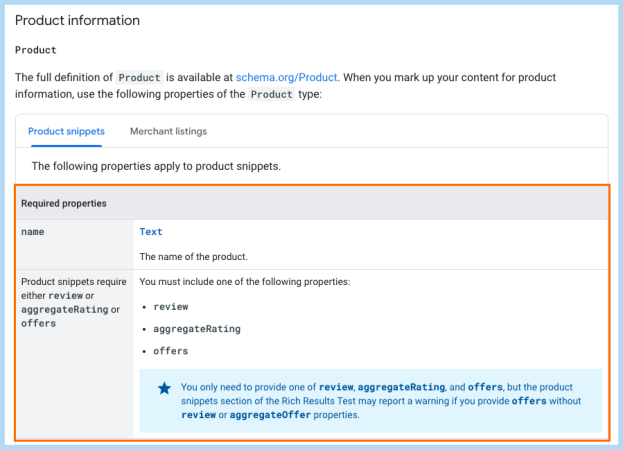 In this case, your product page needs to have:
To improve your eligibility for a rich result, you can also markup your page with the recommended properties that Google has listed for the rich results you are targeting.
For example, you can include positiveNotes and negativeNotes on your product page, and Google can use that information to generate a Pros and Cons section in your rich results. (Do keep in mind, though, that not all recommended Schema Markup properties will augment the rich result.)
Ensuring that your page includes the right content will certainly set you on the path toward achieving your targeted rich results. But if you want to make sure your Schema Markup boosts traffic, you should also cover the following:
Verify Your Content Follows Google's Content Guidelines
Google has published extensive guidelines for content in general. However, most rich results also have their own unique set of content guidelines that you must adhere to.
Review snippet requirements, in particular, have become far more strict. According to Google's latest guidelines, local businesses cannot engage in self-serving behaviour when targeting these snippets, such as aggregating rating Schema Markup for their own company.
FAQs and job postings are also tightly regulated. To achieve an FAQ rich result, you must ensure that the full text of the question and corresponding answer are visible on the page. Your job postings cannot be used to mislead or deceive others. Otherwise, Google will not display rich results for your postings, and you risk receiving a manual action.
We recommend familiarizing yourself with Google's full guidelines for each type of rich result you want to achieve. However, there are a few general tips we can offer to help get you started:
Make Sure Your Structured Data Is a True Representation of Page Content 
Let's stick with the previous FAQ page example.
In the past, websites could achieve a FAQ rich result by adding FAQPage Schema Markup to any page that resembled one, such as a page with headers and text following.
Today, your page needs to have a Question (not just a header) and an Answer to be eligible for an FAQ rich result. So make sure that your on-page content aligns with the Structured Data you apply to it.
Ensure Your Content Is of High Quality
In the early days of search engine optimization (SEO), brands could stuff their content with keywords and gain visibility via other black-hat SEO practices. However, Google caught on and has since adjusted its algorithm to ensure users are provided with helpful content.
Google's new guidelines prioritize people-first content, which means that if you resort to keyword-stuffing or other unscrupulous tactics, your pages will not be eligible for rich results.
In Google's most recent product review update, the company stated that it might use Structured Data to identify if something is actually a product review. While they don't solely depend on it, adding Schema Markup to your products can help you get noticed and achieve rich results.
Focus on 1 Main Topic Per Page
Though it may be tempting to cram a few different topics onto a single page so that you can target lots of rich results categories, that is not a smart play.
Google recommends focusing on one main topic per page, as doing so will promote a better user experience. Additionally, focus on topics that involve your area of expertise. Doing so will help you convey your experience, expertise, authority, and trustworthiness (E-E-A-T).
Ensure Your Content Is Up to Date
As part of its efforts to provide users with relevant material, Google won't display rich results for any expired, time-sensitive content. For example, you cannot achieve rich results for expired job postings.
If you set an expiration date on a post but haven't filled that vacancy, update the application window. Once you update the expiration date, the posting will once again be eligible for rich results.
Get Your Content Ready to Achieve Google's Rich Results
Adding Structured Data to your pages does not guarantee a rich result with Google. However, if you want your Schema Markup to be eligible for a rich result, make sure you have good quality content first and adhere to all of Google's guidelines. Since Schema Markup and content go hand in hand, you must keep both up to date if you want to maintain your rich result eligibility.
At Schema App, we do more than just help our clients generate and deploy Schema Markup to their sites at scale. We provide our customers with content recommendations and equip their teams with best practices to create content that automatically qualifies for a rich result.
To see how we can help your organization leverage great content to execute an effective Schema Markup strategy and drive measurable results, contact Schema App today.