I had the privilege to speak at BrightonSEO on September 13th, 2019 about Connected Schema Markup and Knowledge Graphs. You can watch the presentation below or read about how schema markup (aka structured data) is a powerful tool for you to create triples about your company, events, services, products, etc that informs Google's knowledge graph and enables inferencing. Enjoy!
My name is Martha van Berkel and I am the CEO at Schema App. This is my knowledge graph.
From it you can learn how I am connected to other things on the web, and my relationship to them. I worked at Cisco for 14 years, am an Engineer by training, attended MIT, am Canadian, a cofounder of Schema App, and used to own an Austin Healy Sprite. My car was the star of a movie called Losing Chase which was directed by Kevin Bacon. Kevin Bacon used to drive my car. Why I share this is because you can infer that I am 2 degrees from Kevin Bacon, and now you are three. This is the same type of inferencing that Google does to answer people's queries.
This concept of a connected web of information is not new. Sir Tim Berners-Lee in 1999 said,
I have a dream for the Web [in which computers] become capable of analyzing all the data on the Web – the content, links, and transactions between people and computers. A "Semantic Web", which should make this possible, has yet to emerge, but when it does, the day-to-day mechanisms of trade, bureaucracy and our daily lives will be handled by machines talking to machines.
Knowledge Graphs
As I prepared for my trip to the UK, I thought I would test out Tim Berners-Lee's vision of having machines help with daily tasks. For me I wanted to make sure I knew my British Monarch trivia. I started by asking: How old is the Queen? When did she become Queen? Who is her Successor? Turns out Prince Charles is her successor. Then I remembered that I don't actually know that much about Prince Charles.  Where did he go to School? It turns out he went to a school called Gordonstoun.  Who else went to school there? His father, Prince Phillip,  David Bowie's son Duncan Jones, as well as one of the Getty family.
This information, when you link it all together, you create the Queen's knowledge graph.
We see evidence of this connected information in search results and in image search.
Triples
Knowledge graphs are made of triples For example, in the Queen's knowledge graph, the triples are the Queen's spouse is Prince Phillip. Or the Queen's son is Prince Charles. Or Prince Charles is an alumni of Gordonstoun.  Triples define how two things are connected.
In this example, I have Harrods area that it serves is the UK. I use this example because in schema markup, you would have a page talking about Harrods, and use the property areaServed to link to to the UK. So in fact, each time you add a property in schema markup using schema.org, you are in fact creating triples! These triples inform a knowledge graph and then Google uses that to infer interesting answers to search queries.
Leave it to Chance or Take Control?
You can choose to leave it to Google to figure out how information is connected, or you can take control and use schema markup to define the relationships.
Schema Paths
When you are trying to link different things together, it can be difficult to figure out what property to use. This is why Schema App creator, Mark van Berkel, created the free tool Schema Paths. The Schema Paths tool allows you to choose the two classes of the page you are trying to relate and it shows you a list of properties. For example, a cafe or coffee shope and a videoObject.  Below we have selected these two paths in the Schema Paths tool.
The result shows us how these two classes can be linked together. While there are many options, on reading them you can pick the most specific way.  In the case of the Cafe or coffee shop it would make the most sense to use subjectOf to relate it to the video. This would also result in the markup for the videoObject being nicely nested within the cafe or coffee shop markup (local business markup).  You could use the about property to also connect them, to state that the video is about the cafe and coffee shop. To learn more about Local Business Markup, read our Ultimate Guide for Local Business Markup.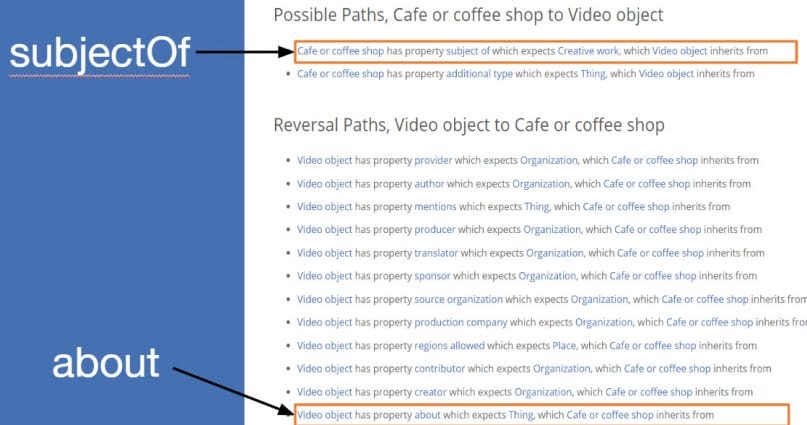 Wikipedia
If you are connecting something that is well defined in Wikipedia, you can use the Wikipedia definition to define that entity. For example, if we were going to be talking about a blog that mentions the Queen, instead of linking to a page that talks about the Queen on our website, you could refer to the Wikipedia entry for the Queen, https://en.wikipedia.org/wiki/Elizabeth_II.
Why Wikipedia? Wikipedia is a trusted site with definitions of things (aka entities) and can help bring clarity on what you are talking about or referring to.
about, mentions, and subjectOf
Property Value Pairs
There are times that you want to connect additional information to a product or a place and there is not a schema.org property that fits. This is where you can use Additional Property.
In this example, we wanted to add the Megapixels and associate it with a camera. So you would use the Additional Property field, associate it to a PropertyValue entity. Within the PropertyValue there are set fields you can use, like name, value and then others like UnitCode that allow you to define the "free variable" more clearly. In this example, we set the name to Megapixel, the value to 20.3 and then used the UN/CEFACT unitcode to define it more clearly.
Main Entity of Page
The main entity of page is when you want to define the primary topic of the page. In this example, BrightonSEO website has 5 events listed as well as a Webpage. What is the primary topic of the page?
In order to use this schema.org property (called mainEntityofPage), you can add the URL of the page into the schema markup for the schema markup for the main topic.  This then tells Google that even though there are many events on a page, this even (the one with mainEntityofPage) is the primary topic of the page.
Your Schema Markup Tells a Story
Your Schema Markup tells a story about how your content is connected to other things on your website and on the web. You can use properties within schema markup to define the relationships and take control of how your brand is understood. Just like you now know that I am connected to Kevin Bacon, you can tell Google about how your information is connected to allow it to infer information and answer queries.
Additional Resources
How to Create a Schema Markup Strategy – Blog + Video: This article provides a step by step guide on how to identify what content to optimize with schema markup and how to prioritize it. This is the tried and true process we follow at Schema App. The video captures Martha van Berkel, CEO at Schema App, walking through the steps with an example.
16 Benefits of Structured Data, Today and in the Future – Blog + Video: This article reviews the benefits (all 16 of them) of doing schema markup and is a great tool for learning how to position the value of schema markup to the business.  You may not be aware of all the benefits, including how you can re-use schema markup in analytics!
Questions from the Audience
During the session at BrightonSEO the following questions were asked:
Where can I find good case study information to inform the business about the impact of schema markup?
Schema App has three 

case

 

studies

 published, that capture both the impact of our work and what it is like to work with us. You can view them here: Keen Footwear, Whitaker Brothers, and Donovan Digital. Highlights include:

"With the addition of Schema markup on the U.S. website, Keen Footwear is on pace to hit 20% year-over-year organic growth." Keen Footwear
 "Results from using Schema App included 33.60% increase in transactions and  36.82% increase in revenue." Whitaker Brothers

Schema App on Capterra has also captured some good "voice of the customer" on our value and offerings.
Google has been keeping its structured data 

case

 

studies

 very up to date. Most recently they added Monster.com results, we refer to these to complement our own results. Google Structured Data 

Case

 

Studies

. Highlights include:

Monster.com – India 94% increase in organic traffic on job detail pages
Jobrapido more than doubles its organic traffic
ZipRecruiter grows conversion rate 4.5x
Eventbrite boosts traffic 100%
Rakuten increases time on site 1.5x
If you have schema markup for ratings from one source and additional markup on the page from another source, how do you connect them? 
You can use the @id within the markup to inform Google that the two things are related.  We've written about the approach in this blog "Additive Schema.org Data for Local Inventory Advertising". Check out the section on  The Additive Experiment method and it gives some detail about using @IDs.  We wrote a similar piece about integrating reviews with GatherUp. You can see it here: Integrating Schema App and GatherUp Reviews.
SEO has evolved beyond keyword-based search to be focused more on well-defined entities and semantics, which for SEO is basically the true meaning behind search intent. You can streamline Google's ability to contextualize your website content through entity-based SEO, as you are linking entities in your content to a search engine's knowledge graph. Level-up your SEO strategy through structured data markup, and start driving more qualified search queries to your website.
Start reaching your online business goals with structured data.