It used to be fairly easy for a local business to rank high on Google for local search terms. This is no longer the case.
With more and more small- to medium-sized businesses jumping on the local SEO bandwagon, it's more difficult than ever to rank your local business.
Local SEO: 5 Tips to Rank Your Business for Local Search
There are a variety of SEO tactics you can utilize to help rank your business for local searches. Here are some of the best practices to add to your SEO arsenal:
#1. Optimize Your Page for Mobile
A mobile-friendly website is not optional anymore. Google has publicly stated that more searches occur on a mobile device vs. a desktop computer, so if your business doesn't have a mobile or responsive website, you're going to get passed up by your competitors that do have a mobile site. When two sites are (for the most part) equal and one has a mobile-friendly site and the other business doesn't, Google will more than likely show the mobile-friendly business' website first in the search results.
Surprisingly, many SMBs are still not on board with mobile. According to Clutch's Small Business Websites in 2016: A Survey, nearly half of small businesses don't even have a website. Of the more than 350 small business owners and managers surveyed, the majority claim they don't have a website because it's not relevant to their business (WRONG!) or because the cost of developing a website is too expensive (the cost of NOT having a website is greater, in my humble opinion!)
For those businesses wise enough to have a website, 23 percent of the sites are not mobile-friendly. (Ooops!) This is a major flaw — especially when it can impact where you rank in the search engine results. It's worth it to get your site up now so that you don't fall even further behind and be sure to tell your web designer and developer that you want a "mobile-responsive" site.
#2. Optimize Your Page's Title and Description Tags
Every page on your site must have a unique title and description meta tag that accurately tells the search engines more about the content of your pages. The Title and Description meta tags are pieces of code that search engines see and use to pull in your business information into search engine results:
You can even spy on what your competitors are using for their Title and Description Tags – which will help spur ideas for your pages. Simply right-mouse click on any blank section on a site and click View > Source and you can see the Title and Description tag code that the search engines see.

The result? Those Title and Description tags show up in search engine results:
The great thing about Title and Description tags is that you can use those to your advantage if you're trying to rank for local cities. Notice how Stuff Etc., a consignment store in Cedar Rapids, IA, used the keywords "Cedar Rapids" in both their Title and Description tag. And they used it in such a way that it doesn't appear spammy to the search engines.
You need to take a look at every page on your site, identify which one or two keywords/phrases you want to focus on for that page and then write a Title and Description tag that accurately describes what's on the page. When you're a local business, it's perfectly okay to mention the city or towns you serve as long as you don't over do it.
#3. Set Up Your Google Business Profile and Bing Places For Business Accounts
Have you ever wondered how local businesses show up in that great boxed section of search results? You know the one I'm talking about. It looks like this:
This is the local three-pack. These local search results often show above organic search engine rankings. You'll notice, however, that there are only three coveted spots available in the "snack pack" box with a teeny-tiny "More Places" link at the bottom. (Wanna bet that few people actually click on the "More Places" link?)
So how do you increase your chances of getting into the local three-pack? Claim your Google Business Profile (Formerly Google My Business  "GMB") Page!
Claiming your Google Business Profile (GBP) page is free and any local business — brick and mortar AND service business — can claim their business' location through a verification process. To get started, visit https://www.google.com/business and go through the steps. Once your business has been claimed, it's time to optimize your Google Business Profile (GBP) Page with your company's name, address, phone number (also known as NAP), business hours, types of payments accepted, business description, photos and more. Fill out your GBP page as much as you can — the more info you provide, the better.
Many people forget about Bing. Oh, Bing… Well, Bing offers the same type of FREE page for local businesses: Bing Places for Business. Going through the Bing Places for Business claiming process is very similar to Google's so if you're able to easily claim your Google Page, Bing's will be a breeze. To get started, visit https://www.bingplaces.com.
#4. Get Listed on Online Business Directories
Online business directories are the modern-day equivalent of the old-fashioned printed YellowPages. Gone are the days where a printed book is needed when all you need to do now is a Google search to find a local business. You'll see online business directory sites show up directly in Search Engine Results Pages (SERPs) when people search for local businesses, so it's incredibly important that you get listed on as many QUALITY directories as possible (whatever you do, don't risk your reputation by getting your business listed on a potentially shady/untrustworthy directory site.)
When you search for "wedding dress shops in dallas" you will see several online business directory sites showing up in the Search Engine Results Pages: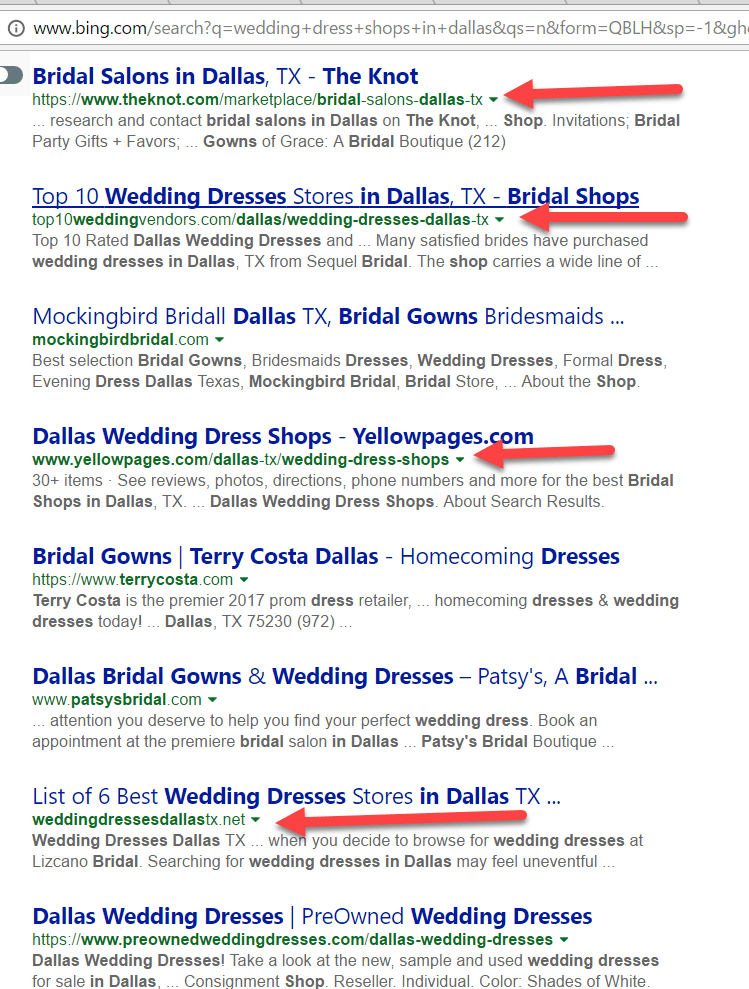 Examples of Online Business Directories include Google Business Profile, Yelp, Merchantcircle, Foursquare, Citysearch, TripAdvisor among others. The key is for you to pick the right online directories for your business and then check to confirm that your business is listed on the directory correctly.
Getting listed properly means that your business' name, address and phone number appear EXACTLY the same on as many online business directories as possible. (And I do mean EXACTLY the same — right down to whether you have your address as White Ivy SE vs. White Ivy Southeast. EVERYTHING must match. That's why it's crucial that you find the popular online directories for your businesses niche, do a search and see if your business appears. If it does and you're given the opportunity to "claim" it — do so. That means that you will be the one in control of your listing. If your business isn't listed (perhaps you just opened shop?) most online directories will allow you to add your business listing for free. Again, just make sure that all the information you put in these directories match.
Now, I will be the first to admit that finding, reviewing, claiming and editing all these online directories can be a royal pain. Luckily there are online directory (a.k.a citation sites) services that will go in, find online directories/citation sites for your business to be included in and get you listed consistently and professionally. Services like Moz Local, BrightLocal, Whitespark and others all have their good qualities and are competitively priced. You can find a detailed comparison of Citation Site Services here.
#5. Get Online Reviews From Happy Customers
Reviews are important to almost any consumer buying virtually anything. People look up reviews before selecting a restaurant to eat at and take a look at reviews for products they're thinking about buying.
According to the BrightLocal 2016 Local Consumer Review Survey 84% of people trust online reviews as much as a personal recommendation. That's powerful! You must have a strategy for easily (and politely) asking your happy customers to leave you a review. There are a variety of online reputation companies that have software platforms that make it easier for businesses to collect those reviews. Find a system that works best for you and then just start asking for a review!
Where Next?
Who knows! In the SEO industry, things move pretty fast. Just trying to keep up can be sometimes exhausting, but if you do your local SEO work step-by-step you will start to see results.
Investing in advanced SEO practices like structured data markup will give you more control over your appearance in search engine page results. Instead of hoping that search engines will be intuitive enough to understand the intent of your content and show the best information in search results, you will be helping Google understand through schema markup. For local SEO, this means enhancing your Google Knowledge Panel and Google Business Profile (GBP), better matching your content to a user's search intent, and more! If you need help getting started with your local business schema markup, get in touch.
Start reaching your online business goals with structured data.
Martha van Berkel is the co-founder and CEO of Schema App, an end-to-end Schema Markup solution provider based in Guelph, Ontario. She focuses on helping SEO teams globally understand the value of Schema Markup and how they can leverage Schema Markup to boost their SEO strategy and drive results.
Prior to Schema App, Martha was a Senior Manager at Cisco Systems for 14 years responsible for the global online support strategy. She has a degree in Applied Mathematics and Engineering, attended MIT for Innovation and Strategy, is a Mom of two, as well as an avid rower.