At Schema App, we work with our customers on their Schema Markup from strategy through to results. One of the ways we provide our customers with insights into their strategy is by keeping a close eye on the latest happenings with Google and the performance of rich results across the industry.
2023 started off on a calm note with very few changes in rich results performance, but since the March Broad Core Update, we've seen a few big swings happen on the search engine results page, particularly with Video and FAQ rich results.
Based on our industry data, we've seen most of the changes happen after an announcement from Google – whether that be a core update or a documentation update on how they are displaying specific rich results. However, there are also changes on the search engine results page that happen unannounced by Google.
Here's what our industry data is showing us from the past few months.
Video Rich Result Changes
Effective April 13, 2023, Google has simplified the video presentation on the search engine results page. Prior to this change, video thumbnails were shown in two different ways.
1. Pages that had a video as the main content of the page would show up with this listing format on the SERP.
2. Pages that had a video present on a page but not as the main element of the page would show up with this listing format on the SERP.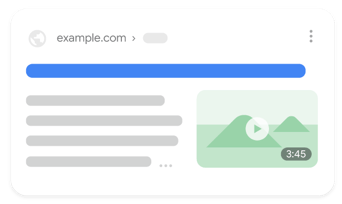 Today, Google is no longer awarding a video rich result to pages that do not have the video as the main content. However, if the video is the main content of the page, the video rich results will continue to show.
After April 13, we've seen the clicks and impressions for Video Rich Results drop by over 95% for all our clients and the numbers slowly improved after April 21st, as a result of customers making video the main content on a page.

Read Google's Video SEO best practices guide to learn how you can help Google find your video and optimize it for search. If you are a Schema App enterprise customer, your Customer Success Manager will provide you with content recommendations to optimize your videos.
FAQ Rich Results Fluctuations
Our relationship with FAQ rich results is tumultuous at best.
Around April 5th 2023, we saw the clicks and impressions for FAQ rich results on a downward trend.
This drop was mainly for FAQ rich results on mobile as mentioned by other SEOs.
Quick update on the drop in FAQ snippets on mobile & the drop in video snippets in the SERPs.

FAQ snippets remain down on mobile based on the change on 4/5. And video snippets have plummeted for sites where the videos are not the main content (starting on 4/13). No change there: pic.twitter.com/M0406FPGWG

— Glenn Gabe (@glenngabe) April 29, 2023
Even though the numbers show signs of slow recovery after April 18, we saw the clicks and impressions for FAQ rich results on desktop and mobile dropped drastically on the weekend of May 7. We've yet to see any confirmed algorithm changes or comments from Google regarding this issue.
Despite being one of the top-performing rich results on the search engine results page, FAQ rich results have historically been notorious with their fluctuations. We saw the performance for FAQ rich results fluctuate in May, August, September and October of 2022.
We have yet to isolate the reason for this decline but it looks like Google is reducing how often it is awarding a rich result and the queries that might be achieving them.
Moreover, we aren't seeing this across all our clients, in fact some clients are seeing gains. This leads us to believe that it could be based on the quality of content.
In an unofficial statement on Mastodon, John Mueller also mentioned that "sites love adding FAQ markup, it gives them more room in search, and at some point, it makes the results less useful. The right balance makes sense to re-evaluate from time to time, like with any other search element."
As a result, our Customer Success team keeping a close eye on the situation and revisiting the schema markup strategy to make content recommendations to drive results. This is also why we urge our customers to diversify their content and rich results, to reduce dependency on individual rich results to drive traffic.
Google Updates: Generative AI on Search
Google's I/O developer conference also happened today and recent reports from Wall Street Journal and New York Times have leaked potential changes that Google might be making to the search engine results page prior to the conference.
During the keynote speech at the conference, Google unveiled the addition of generative AI to their search engine results page. Users will still need to type a query, but the generative AI search engine will provide users will answer directly on the SERP with links to websites, snippets of content and ads. Users can also ask follow-up questions to get more specific responses.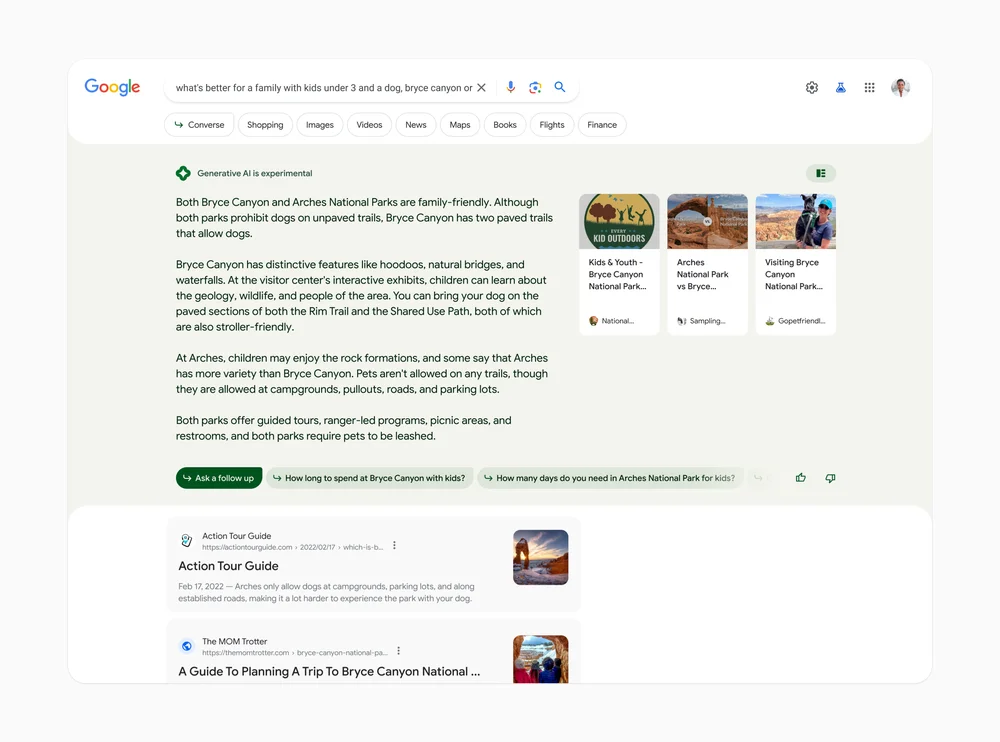 Image: Google
This change is a departure from the traditional search results and could explain the recent changes in FAQ and video rich results. But more importantly, Google's Search Generative Experience will still require a data source to identify information from trusted websites and sources. This is where Schema Markup comes to play.
Watch our 'How Marketers Can Leverage Schema Markup and Prepare for AI-Search' webinar recording to learn why Schema Markup and your Knowledge graph are important for AI and machine learning.
Martha is the CEO and co-founder of Schema App. Schema App is an end-to-end Schema Markup solution that helps enterprise SEO teams create, deploy and manage Schema Markup to stand out in search. She is an active member of the search engine optimization community, and the work that she does through Schema App is helping brands from all over the world improve their organic search performance.