Around June 11th, we observed a sudden decline in Google's Video Rich Results on desktop search across our website. We've noticed the same trend happening with many of our client's websites. This sudden decline was also reported by SEO strategists Sam Gooch and Brodie Clark.
Key Facts around Video Rich Results
May – Through May, the majority of Schema App clients saw growth in Video Rich Results
Early June – Starting in June, 70% of clients started to see a decrease in Video Rich Results. Interestingly, we're also seeing the decrease in Video Rich Results as isolated to only desktop devices.  
Late June – 30% of our clients didn't see a drop until after June 30th. 
Early July – All our clients saw a drop in clicks and impressions for their Video Rich Results. 
Late July – 32% of our clients are seeing an improvement in Video Rich Results across all industries.
Early August – 58.46% of our clients have seen an improvement in clicks or impression for their Video Rich Results.
Many of these pages affected are being indexed by Google for the video enhancements and are valid instances, but not awarded with a rich result on the Search Engine Results Page (SERP). We saw the drop impact clients that used Youtube, Vimeo, Brightcove and other video hosting platforms.
The sudden decline in the Video Rich Results is ultimately incongruent with the announcements made in the last two Google IOs. In the last two Google IO Search sessions on search, the focus was on video schema markup. In 2021, John Mueller, senior webmaster trends analyst at Google, announced two new rich results – Clip markup and Seek markup, and in Google IO 2022, Dikla Cohen, Web Ecosystem Consultant, where focuses on showcasing videos in the SERP.
How does this affect your website? 
When comparing June to July, Video Rich Result impressions are down 43%, and Clicks are down 53% across all our clients.
The decrease in Video Rich Results on the desktop has resulted in a decrease in the number of impressions and clicks to the website. For businesses that rely heavily on these Video Rich Results to drive traffic, this can cause a reduction in revenue – as we've seen with some Schema App clients.
As of August 15, we are seeing an improvement in Video Rich Results across 58.46% of our clients and will continue to monitor the situation and update this article over the upcoming weeks.
Possible Reasons for the Sudden Drop in Video Rich Results
There are many reasons as to why a site might see a decline in their Video Rich Results but here are a few of our hypotheses as to why this is happening. 
Google's Algorithm updates
Google released a core update this past May and the update officially finished rolling out on June 9, 2022. These core updates can often affect website rankings and visibility, and the decline in video rich results could be a bug from the update. 
However, with what little information Google provides about these updates, it is impossible to isolate the exact reason as to the changes to a website's rankings or visibility.  It is interesting that we started seeing the decline starting June 11th, 2022. 
Google Favouring Youtube
Apart from the decline in video rich results, we've also noticed a change in how the video results are presented in the SERP.  
The standard video rich results that show up on the SERP tend to only feature Youtube videos. Moreover, the Video Rich Result directs users straight to the Youtube video page, rather than the web page that the video was embedded on.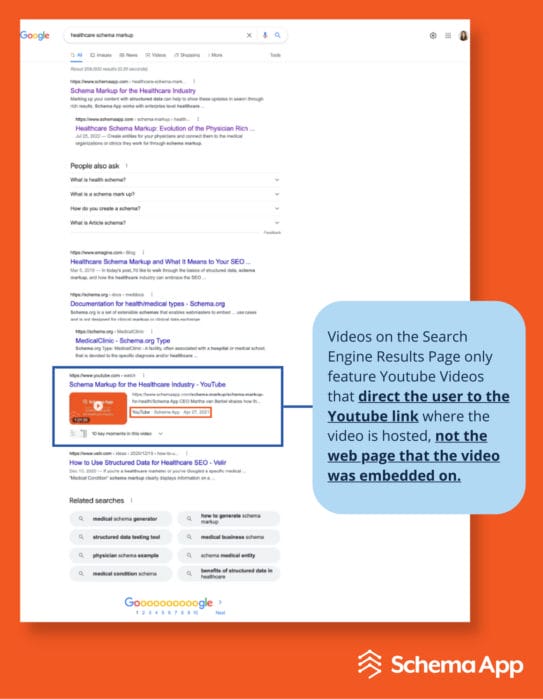 On the contrary, the 'Video' tab on the top of the SERP now shows video results that link directly back to the site that the video was embedded on or videos hosted on other video hosting platforms.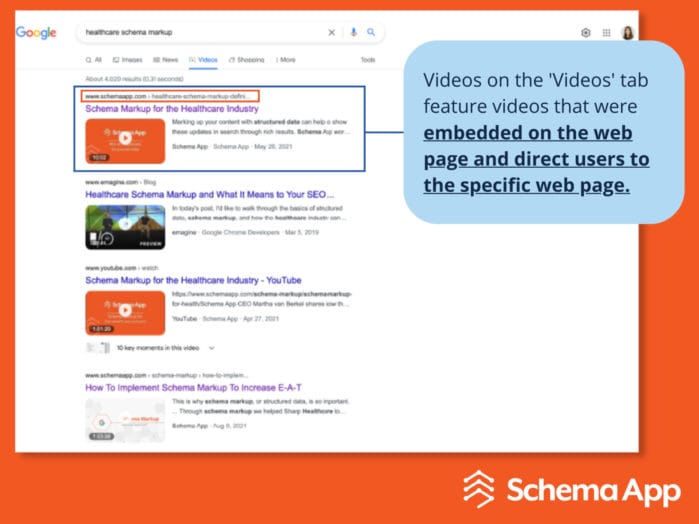 Youtube is a Google product and this might be Google's way of directing more traffic to Youtube rather than other sites. 
Google's Response to the Decline in Video Rich Results
Daniel Waisberg, Search Advocate at Google, is looking into the potential bug but we have yet to see a response that this is a bug or an error. To date, we are still awaiting for a response from Google. 
Our Schema App Solution
At Schema App, we focus on strategy, high touch support and robust schema markup at scale. 
When it comes to creating a strategy for our clients, we always target multiple types of rich results to diversify their traffic sources. This reduces the risk of our clients being impacted by Google's updates. 
As part of our high touch support, we are also constantly monitoring the performance of rich results across all our clients. When we see these types of changes happening or identify new markup opportunities, we help our clients stay agile by pivoting their strategy quickly and deploying new markups within minutes on our Schema App Highlighter tool. 
Get in touch with us today to learn how Schema App can help your organization stand out in search using structured data. 
Martha van Berkel is the co-founder and CEO of Schema App, an end-to-end Schema Markup solution provider based in Guelph, Ontario. She focuses on helping SEO teams globally understand the value of Schema Markup and how they can leverage Schema Markup to boost their SEO strategy and drive results.
Prior to Schema App, Martha was a Senior Manager at Cisco Systems for 14 years responsible for the global online support strategy. She has a degree in Applied Mathematics and Engineering, attended MIT for Innovation and Strategy, is a Mom of two, as well as an avid rower.