Use defined entities & robust knowledge graphs to optimize your website for AI Search.
Search engines have evolved from lexical to semantic search. Instead of using keyword matching and rudimentary algorithms to rank results, search engines now use complex AI-powered algorithms to understand the concepts and meaning in a query and on a page to provide relevant search results.
This means that as an SEO professional, you must communicate the meaning and intent behind your content to stay relevant in this new AI search experience. And how can you communicate meaning and intent to search engines?
You must clearly define your entities and showcase their connections to other entities through a knowledge graph using Schema Markup. That way, search engines can derive meaningful context from your content and provide more accurate search results.
This eBook highlights the impact that defining your entities and developing your marketing knowledge graph have on your SEO success in today's search landscape. It will guide you through the process of defining and linking the entities on your site to construct a robust reusable knowledge graph using Schema Markup.
In this eBook, you'll learn:
Why entities and knowledge graphs are important for SEO
How to define and connect the entities on your site to develop your marketing knowledge graph
The value of knowledge graphs beyond SEO
By applying these learnings, SEO professionals can control how their content is understood by search engines and accelerate their AI initiatives.
Download your FREE eBook and align your content with the future of search today!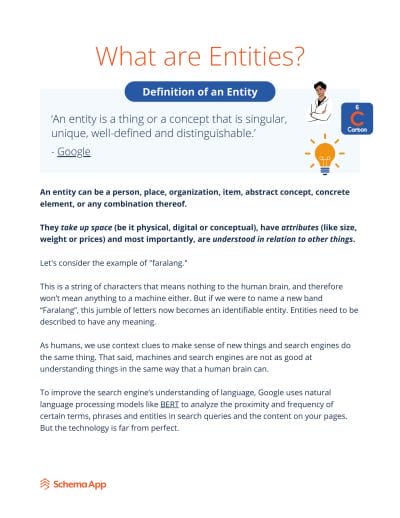 Download the eBook to drive semantic SEO success!
Fill out the form and get your free download now.