Schema App Editor Training
Use the Editor to identify the required and recommended properties for a schema.org type/class/entity
Markup your pages using the Editor
Generate schema markup for a single page without writing code
Schema App Editor features:
Simple to use
No technical experience required
Entire schema.org vocabulary + extensions
Notified of errors right away
Retrieve the JSON-LD code with a click
Validate with the Google Structured Data Testing Tool with a click
Deploys on any platform
Using the Schema App Editor
A. Choose the primary schema.org type (aka "Class", "Entity" or "Data Type")
The Editor contains the entire schema.org vocabulary plus extensions but in the interest of making the tools peppy, only the standard vocabulary is automatically loaded without requiring additional action. With a few quick clicks, you can activate the extensions (including pending types).

Choose one primary type per page. The more specific you can be in choosing your primary type, the better. 
You can either use the Editor's type tree or start typing in the type name.
If you are having trouble choosing the appropriate type, reference schema.org – their definitions will help you to select the best option.
B.Choose a reference name and URL

Before proceeding watch this video to avoid common user errors and learn about data items and URIs.
Name: Select a name that'll be easy for you to find. This will be your reference name.
Agencies: We recommend using the name of the client and a description of what you're optimizing. e.g. ABC Company/HomePage
URL: This is a unique identifier. Normally this is the webpage URL, but when you have multiple data items that reference the same page URL, you will need to append a unique ID. Add a "#" to the URL plus text to describe your data item. When it comes to deploying the schema markup, the WordPress plugin, Google Tag Manager or JavaScript API (for example) will use this to identify what it is updating so that it can pull in the appropriate markup.

No need to write code with the Schema App Editor, simply "Edit" your newly created data item and fill in the fields. At a minimum, mark up all of the required and recommended fields to achieve the best SEO results BUT only mark up content that is displayed/visible on the page (OR update your page to add the content, so that it can be marked up). Not all fields need to be filled in – just those that are impactful to your business. It is more important to supply fewer but complete and accurate properties rather than trying to provide every possible property with less complete, badly-formed, or inaccurate data.
Step 3. Creating an Embedded Data Item
There is an excellent chance that you'll have to create at least one embedded Data Item and when you do, the Editor will prompt you to name it and give it a URL. You've already used the URL the content resides on for the primary type, but you can simply add a hashtag plus a description to the end of the URL to create a unique URL for this data item.
The Schema App Editor will automatically connect your embedded Data Item to your primary Data Item and in doing so, will help you to build out a Knowledge Graph.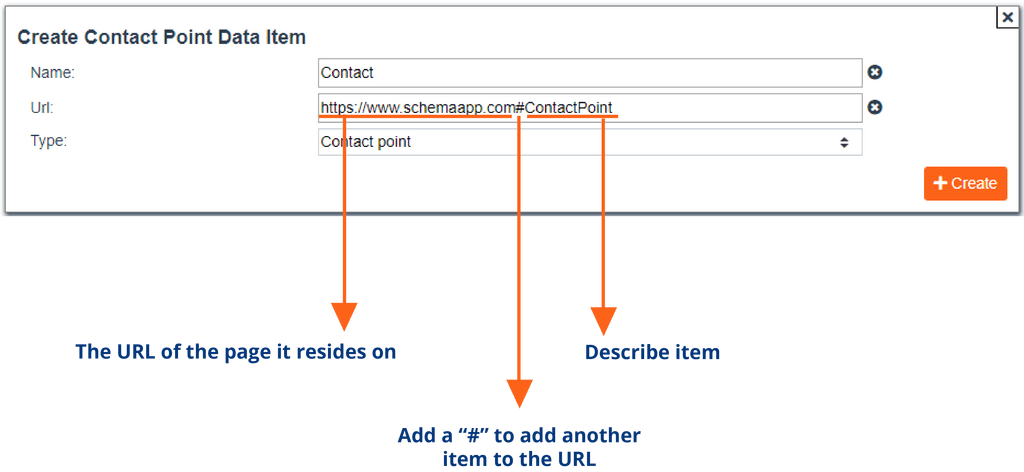 Step 4. Test Quality of Markup